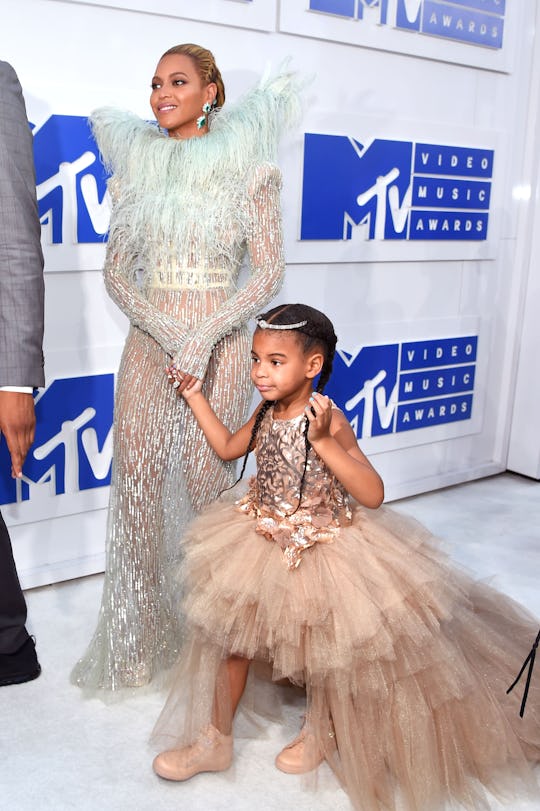 Larry Busacca/Getty Images Entertainment/Getty Images
Fans Need Blue Ivy To Be At The 2017 Grammys
bThe 2017 Grammys might as well be called the 2017 Beyoncé Awards, in my humble opinion. Queen Bey is currently nominated for nine Grammys for her album Lemonade, and she will also be performing at the awards on Sunday night. Seeing the queen herself, who recently announced that she was pregnant with twins, is usually enough to send any Beyhive member into a frenzy, but many are also hoping that Blue Ivy will make an appearance to cheer on her mother. Is Blue Ivy at the Grammys? It hasn't been confirmed if she will be there, but photos have made the rounds on Twitter claiming to show Beyoncé and Jay Z's 5-year-old daughter, but it's unclear if they're actually real.
Update: BuzzFeed tweeted a photo of Blue Ivy sitting on Jay Z's lap during the awards. She was wearing a pink tuxedo in what appeared to be a nod to Prince, who died last year. Her look was beautiful, adorable, and fierce AF (because of course). It appears that Blue and her parents just skipped the red carpet and went straight to their seats, maybe because they wanted to save Beyoncé's first appearance for her actual performance? Who knows.
Another viral photo claiming to show Blue Ivy show a small girl in a gold dress with a giant grey bow, but the kid looks a little small to be Blue, who is 5 now and a bit taller (I think) than the toddler shown in the below image. Though, it's fun to think that if Blue does make an appearance, she will be working a dress just as grand and amazing as the one shown in the below photo.
Many fans quickly pointed out that the photo is fake because of the toddler's size and age. Still, they were all patiently awaiting the real Blue's arrival. Her mother is nominated for nine awards this year, in Album of the Year, Song of the Year, Record of the Year, Best Urban Contemporary Album, Best Rap/Sung Performance, Best Rock Performance, Best Music Video, Best Pop Solo Performance, and Best Music Film, according to Billboard.
Many fans thought that Beyoncé and Jay Z would show up right before the awards started, at like 7:58 p.m. Eastern Time, but there was still no sign of them in the minutes before Adele took the stage. It's unclear where Blue Ivy and her parents were. They probably wanted to show up fashionably late, or maybe they were chilling backstage preparing for Bey's performance. Who knows, maybe Blue would take the stage with her mom.
It's was totally unclear what Beyoncé planned to perform on Sunday night. Because she is at least three months pregnant with twins, many thought her performance would be slow and much less energetic than her usual performances, which often rely heavily on dancing and lots of aerobic movement. Regardless of what she performs, how much she dances, or whether Blue is there, the performance will be amazing.