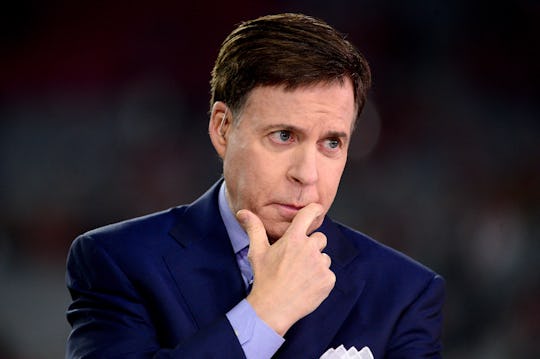 Jennifer Stewart/Getty Images Sport/Getty Images
Is Bob Costas At The 2018 Olympics? The Legendary Journalist Has Thrown In The Towel
If you grew up watching the Olympics on NBC, chances are you've come to depend on a particular host to talk you through all those obscure sports and fascinating cultures over the past couple of decades. Unfortunately, if you were counting on seeing Bob Costas at the 2018 Olympics, I've got som bad news: after hosting the last 12 Olympic Games for the network, the legendary reporter announced that he was stepping down last year, according to USA Today. "It's better to leave before they drop hints," Costas said at the time. "This was entirely on my terms, and I like it that way."
The new prime-time host, Mike Tirico, clearly has a lot of respect for his predecessor. "Bob has been so gracious about all of this," the former ESPN host said, according to USA Today. "How lucky am I to get this opportunity of a lifetime and have someone who I think the world of available as a resource?" And Costas won't be gone entirely; he explained during the conference announcing his retirement: "We built into the deal what they were kind enough to call 'the Brokaw clause,'" Costas explained, named for the journalist who stepped down from NBC Nightly News in 2004. "You still see Tom frequently on NBC when there is an event, be it historical or current, where his insider perspective would seem appropriate." Likewise, Costas will be NBC's "sports Brokaw," coming back to lend a hand as needed.
Tirico told Today's Matt Lauer that he "grew up idolizing'' Costas. "I went to Syracuse in large part for college because Bob did." In a charming twist, Tirico was the very first recipient of the Bob Costas Scholarship for Syracuse broadcasting students. "Bob has long been the gold-standard of Olympic hosts," NBC Olympics executive producer Jim Bell said in a statement. "We thank him for his unmatched work on the signature event in sports television, and we're thrilled to have Mike, with decades of big-event experience, on our team and excited to step in."
Costas has been with NBC for nearly 40 years, earning more than 20 Emmy awards. In addition to the Olympics, he's covered everything from baseball to boxing, NASCAR to the Kentucky Derby. He'll continue to appear on both NBC Sports and NBC News; he's just not jetting around the world every two years anymore. After giving the public 24 years, I'd say he's entitled to a break.
Costas will be missed at future Olympic Games, and remembered for his tireless work ethic, and the unfortunate memes it generated in 2014. "I'm glad that Sochi wasn't the last one," he told USA Today. "You wouldn't want your pink-eye Olympics to be your last Olympics." Costas famously powered through his coverage in Russia for way longer than anyone asked him to, as his "mild infection," as he called it, spread to both eyes and eventually forced him off the air for six days. A true professional, he swapped his contact lenses for glasses, and even managed to joke about it, apologizing to viewers for waking up with a swollen eye that was "just about as red as the old Soviet flag."
But what Costas will remember best about those years covering the Olympics won't be the weeping eyes or the dazzling displays of athleticism. As he explained to Matt Lauer last year, it's about the people:
I always go with Muhammad Ali lighting the torch in 1996 in Atlanta because it stands alone. When he stepped out of the shadows and Janet Evans handed him that torch and you saw him trembling that way, somehow even in that condition, he was just as charismatic and magnetic as he'd ever been.
As silly as it may seem, when fans look back on that famous Sochi coverage, I bet they'll be thinking the same thing about Costas.
Check out Romper's new video series, Romper's Doula Diaries:
Watch full episodes of Romper's Doula Diaries on Facebook Watch.