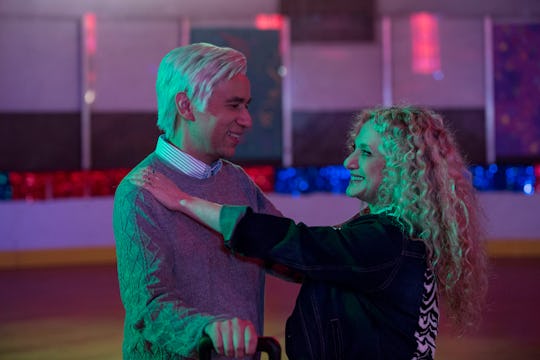 Eric Liebowitz/Netflix
Is Bobby Durst Based Off Of Robert Durst On 'Unbreakable Kimmy Schmidt'?
Unbreakable Kimmy Schmidt has made running gags an art form, with so many memorable jokes and surreal non-sequiturs that it's a wonder the show even finds time for plot (and yet, somehow, it does). The end of the first season featured Tina Fey and Jerry Minor as a fumbling married prosecution duo based on Marcia Clark and Christopher Darden (and made all the funnier in the wake of The People vs. O.J. Simpson-inspired shipping). The very first episode of Season 2 creates another recurring joke out of a real life figure associated with a huge true crime series: Fred Armisen appears as the old flame of landlady Lillian, Bobby Durst. Anyone who caught The Jinx on HBO would have been feeling some serious déjà vu. So, is Bobby Durst based off of Robert Durst on Unbreakable Kimmy Schmidt?
It is certainly hard to say no. (Romper reached out to Netflix regarding the similarities, but did not receive a response right away.) Armisen's costume makes him a ringer for Durst, from the neatly parted gray hair to the sweater with a collared shirt and khakis. He spends the majority of the premiere episode wandering around in the back of the frame, carting a suitcase and mumbling to himself. That mumbling, of course, was subject to a lot of attention back when The Jinx was airing — especially because Durst famously seemed to admit to the murders he was suspected of in a mumble caught by a hot mic at the very end of the documentary series.
Armisen and Kane share a ukulele song at the end of the episode that drops a few more references to Durst's telltale qualities, like his "black eyes" and all of his burping. Armisen has played Durst on Saturday Night Live before, so it's clearly a character he had in his repertoire. Kane herself admitted to the obvious comparison, as well as how much she enjoyed the storyline. "I would like to see as much of that as possible,"she said. "But the problem is I guess some murders have been committed, which makes him unavailable for a lot of the time."
The real-life Durst was investigated in the disappearances of three people (his wife, his neighbor, and his friend) across several decades. Despite what seemed like a lot of evidence, he was never convicted for any of it, but the HBO series about his life shined a new light on Durst's actions and possible culpability.
Trust a show as uniquely zany as Unbreakable Kimmy Schmidt to make Bobby Durst not only a love interest, but a hilarious one.