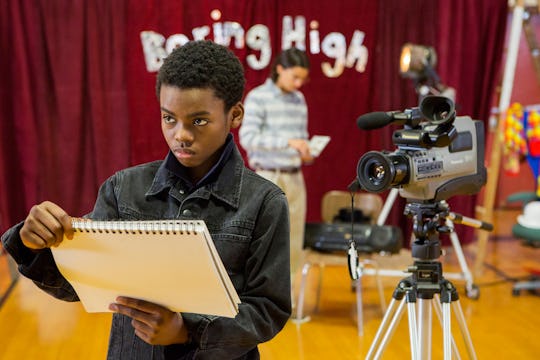 Scott Patrick Green/Netflix
The Setting Of The New Netflix Series 'Everything Sucks!' Is Anything But *Boring*
If you went to high school somewhere in suburban middle America, chances are at one point or another you thought to yourself that you lived in the most soul-crushingly boring place in the whole world. Well, what if your town was actually named Boring, thus giving this angsty thought some new significance. The new Netflix series, Everything Sucks!, takes this concept and runs with it. But is Boring, Oregon from Everything Sucks! a real town? As a matter of fact, there are pimply hormonal teens at this very moment going to high school in that very unfortunately named town. So yes, Boring, Oregon is actually a real place you can go and visit. And if the series is any indication, even though the town may be called Boring, it seems to be anything but.
Everything Sucks! is a teen coming-of-age comedy set in 1996, when kids had to figure out life and dating before there was texting, and bullying was conducted face-to-face instead of on the internet. The show is naturally being compared to the iconic My So-Called Life which starred a young Claire Danes as Angela Chase trying desperately to figure out exactly how she was supposed to "fit in" and "be cool."
The focal point of the series centers around A.V. Club member Luke, who's crushing on Kate, the principal's daughter, who is herself crushing on Emaline, a painfully cool member of the drama club. All of this drama is taking place at Boring High School, so named for their town.
So there you have it — Boring, Oregon really does exist. If you'd like to learn more about this little town, I'd direct your attention to an ad for Comfort fabric softener, that is shot is this delightful little town. You'll find yourself incredibly mesmerized by the people of Boring, Oregon featured in the ad, all of whom insist that their town is not, in fact, boring. They have both a deli and a restaurant, a market, and a very active fire department, but no gangs, that they know of.
A hair-dresser explains that most people in Boring wear their hair conservatively. Another man says it's a pleasant place just to sit back and watch the grass grow. A young man playing with a yo-yo explains "you have to make your own fun," adding, "I mean, there's no girls in town … we'd have to outsource for those." I am delighted, but I don't know if I'd want to move there, though Everything Sucks! could end up changing my mind.
The ad featuring Boring, Oregon (population 8,000) does not mention the high school, or whether it is indeed called Boring High School, though I wouldn't be surprised. One person in the spot does say, however, that people never leave. And even if they say they're going to leave they always come back. So clearly there must be something about this pleasant, middle-of-the-road kind of town that keeps people intrigued. Perhaps the protagonists of the Netflix show would still be living there today in 2018.
Regardless, teens all over America can take comfort in the fact that, even if their town may feel boring at times, it could be worse — it could actually be named Boring. (Did I mention there's even a sister town called Dull, Scotland?) Additionally, maybe the kids in Bland, Australia have something to add here.
Now I know where I'll be going on my next road trip. And a little familiarity with the town has made me even more excited to keep watching Everything Sucks!
Check out Romper's new video series, Romper's Doula Diaries:
Watch full episodes of Romper's Doula Diaries on Facebook Watch.