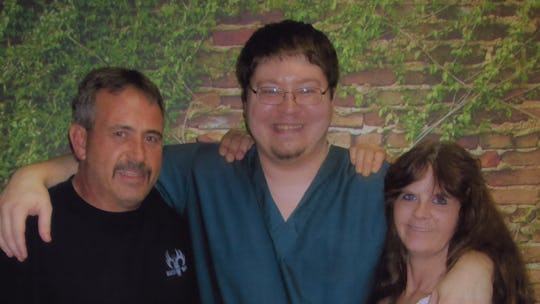 Netflix
Brendan Dassey's Future Is Uncertain On 'Making A Murderer Part 2'
The first season of Making a Murderer followed the murder trial of Steven Avery, and viewers watched the confession tape of his nephew, Brendan Dassey. The confession implicated Dassey as an accomplice in the rape and murder of Teresa Halbach, and led to a life sentence, but his appeals lawyers have been arguing its validity. As a result, his conviction was overturned in 2016. But is Brendan Dassey still in prison?
Despite the overturned conviction, Dassey still remains in prison. His case has been bouncing around the court system since August of 2016, when U.S. Magistrate Judge William E. Duffin ordered his release from custody within 90 days. NPR reported that the judge concluded that Dassey's confession was coerced by investigators who "exploited the absence of such an adult by repeatedly suggesting that they were looking out for his interests" and that Dassey's "borderline to below average intellectual ability likely made him more susceptible to coercive pressures than a peer of higher intellect." But soon after, prosecutors appealed the judge's decision, sending Dassey's case back to appellate court.
In June of 2017, a three-judge court from the Seventh Circuit Court of Appeals voted to uphold Duffin's ruling 2-1, reported CNN, supporting the view that Dassey's confession was not handled properly. But yet again, prosecutors appealed, and this time the case was sent to the full appeals court, with a panel of seven judges. According to the CNN, in December of 2017, the full Seventh Circuit Court of Appeals voted 4-3, ruling that Dassey's confession should stand as is.
"Dassey spoke with the interrogators freely, after receiving and understanding Miranda warnings, and with his mother's consent," Judge David Hamilton wrote for the majority opinion. "The interrogation took place in a comfortable setting, without any physical coercion or intimidation, without even raised voices, and over a relatively brief time. Dassey provided many of the most damning details himself in response to open-ended questions."
Despite this setback, Dassey's lawyers continued to fight for his release, and appealed the decision yet again, this time to the Supreme Court. The Washington Post reported that Dassey was represented by former U.S. Solicitor General, Seth Waxman, who — alongside a number of former prosecutors and psychologists — asked the Supreme Court justices to intervene by addressing his confession, and to clarify the proper method of juvenile interrogation.
But in June, the Supreme Court declined to intervene in Dassey's case and gave no reason for the decision (which is routine for the court). The Supreme Court only intervenes in decisions that it finds unreasonable, explained the Washington Post, otherwise it just defers to the lower courts. In Dassey's case, the Supreme Court apparently found no reason to intervene, so it declined to hear his appeal, thereby upholding the state's decision.
So, as of now, Dassey is still in prison, carrying out his life sentence at the Columbia Correctional Institution in Portage, Wisconsin. In a statement, his post-conviction attorney, Laura Nirider says she will keep on fighting for his release. "We will continue to fight to free Brendan Dassey — a sixteen-year old with intellectual and social disabilities when he confessed to a crime he did not commit," wrote Nirider. "[We] will continue to fight for Brendan and the many other children who have been wrongfully convicted due to the use of coercive interrogation tactics."
Whether or not Dassey is ever released from prison remains to be seen. But through the 10 episodes of Making a Murderer Part 2, viewers can expect to see his and Avery's post-conviction appeal process unfold, along with the emotional toll it takes on everyone involved in their cases.
Making a Murderer Part 2 premieres on Netflix on Oct. 19.