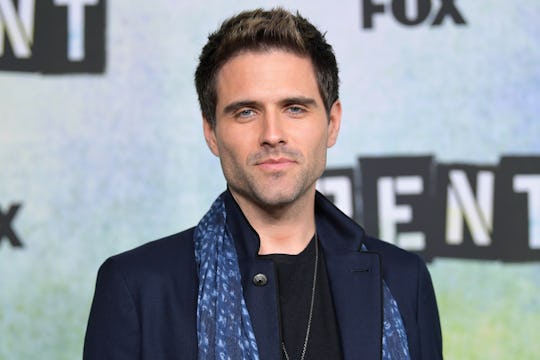 Emma McIntyre/Getty Images Entertainment/Getty Images
Is Brennin Hunt Still Performing On 'Rent: Live'? Here's What You Need To Know
Just one day before Rent: Live was set to premiere, actor, Brennin Hunt, who plays Roger in the musical, got injured. The multitalented performer reportedly rolled his ankle during rehearsals, according to E! News. So people have to be wondering — is Brennin Hunt still performing on Rent: Live? As the saying goes, "the show must go on."
There is so much at stake when it comes to live TV, especially when it comes to putting on a huge musical. Although people would like everything to go perfectly, you never know what you're going to get with it — and something is bound to go wrong at some point. So, maybe it's a good sign that something went wrong during dress rehearsal and not during the live broadcast.
On Saturday, during one of the many dress rehearsals for Rent: Live, Hunt, who plays the tortured rock musician, Roger, got injured while on set and broke his ankle. Fox Entertainment and 20th Century Fox told E! News in a statement:
"Last night during a live performance of Fox's production of Rent, one of the actors, Brennin Hunt, was injured. But in the spirit of Rent, everyone - producers and cast, original and current — is dedicated to ensuring the show's broadcast must, and will, go on."
And that's exactly what happened. The show went on, albeit, with a few hitches.
After the opening number aired, the cast of Rent: Live came on the TV to issue a live statement — Hunt had broken his ankle on Saturday evening, so a previously recorded version of Rent: Live would be aired. This meant that Hunt would not be performing on Rent: Live on Sunday as planned.
But Hunt promised viewers on Sunday that they would be seeing him later on in the show, but just with his added injury. Hunt took to his Instagram Story to share a video of him, being fitted for a new costume that incorporated his brand new ankle cast. "Breaking my foot was not fun last night," Hunt said. Due to the highly active performances involved in Rent: Live, it's understandable why Hunt would want to sit out for the majority of the show — he was physically not capable of performing for the majority of it.
But this knowledge didn't take away from the performance at all. Whether the musical was performed on Saturday or Sunday night, Hunt still killed the performance. At least, people on Twitter seemed to think so.
Ahead of the performance on Sunday, Rent: Live's director, Michael Grief, told Deadline that he was excited for how Hunt and the rest of the cast would do the musical justice. Grief said:
This company has been given to make the characters very much their own. Musically, you'll hear slight variations to really feature this company's strength. In our rehearsal process, I think the company was really excited and maybe surprised about how open I would be allowing their own interpretations...
And Hunt was more than qualified to bring his own interpretation to the role of Roger. The actor and singer got his start on TV as a competitor on The X Factor: U.S., according to Refinery 29. Not to mention, Hunt said in a Facebook Live broadcast that he was excited to be playing Roger because he has been in his shoes before. Very cool.
Although Hunt didn't exactly appear live in the broadcast, he still appeared in some capacity. And at the end of the day, that's all that matters.