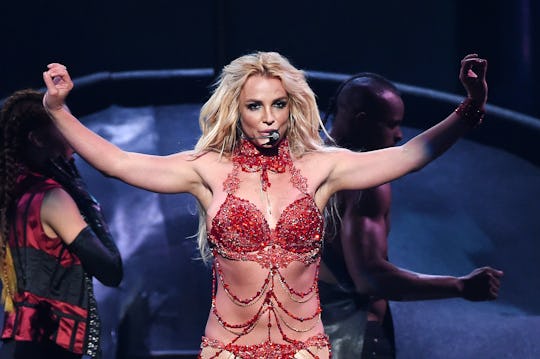 Kevin Winter/Getty
Is Britney Spears Lip Syncing At The VMAs? It's Not The First Time
Our girl Britney is back (again) and it's no surprise to anyone that she put on one of her world-class performances at the VMAs this year (yet again). With a new album, Glory, and a physique in top form as always, our Pop Princess and Comeback Kid looks happy, healthy, and back in her rightful place: on the stage. After years of struggle, it is genuinely satisfying to see Britney Spears succeed and do what she does best. Of course, fans are all wondering, as we've wondered for easily the past 15 or so years of her career, is Britney Spears lip syncing? Honestly, she might be, but it doesn't really matter.
At the VMAs, Spears performed "Make Me..." from her new album, Glory, which was officially released on August 26, though it got quite a few advance listeners due to a leak of the album a few days beforehand. This is Spears' first album since 2013's Britney Jean, which was the lowest-selling album of her career. But Spears is nothing if not a comeback artist, and now she is once again at the top of her game, proving exactly why she has a legion of die-hard fans. Yes, she might have lip synced her VMAs performance, but anyone who is shocked and appalled by this is kind of missing the whole point of Britney Spears.
If you have followed Spears' career in even the most passive of ways in the past decade and a half, you'd be pretty well aware that she lip syncs. In her Las Vegas show, she performs for about 90 minutes, and even her manager has helpfully pointed out to the public that it would be basically impossible for a human being to dance and perform the way Spears does while singing live and sounding even halfway decent. Spears performs pop songs. No one is expecting her to suddenly become Aretha Franklin in the vocals department.
So yes, she might have been lip syncing her performance of "Make Me..." and G Eazy's "Me Myself and I" at the VMAs. She very well might have been lip syncing every song in every performance of her entire career. And I've got to be real with you all when I say I honestly do not care. Britney Spears is not a vocal powerhouse. But she is an incredible performer who always manages to put out catchy-as-hell pop songs, and I will be her fan for as long as she is in business. Spears is not really a singer. Spears is a Diva, with a capital D. And I'm absolutely OK with that.