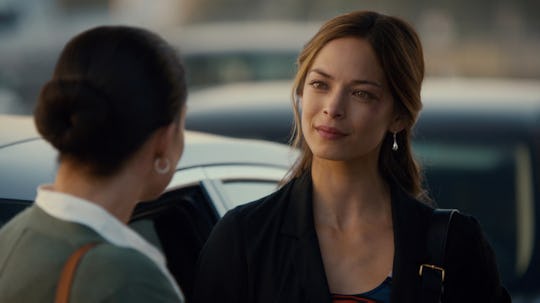 Cause One Productions Inc. and Cause One Manitoba Inc.
'Burden Of Truth' Seems Like It Could Be Based On A True Story
The plot to the CW's new legal drama Burden of Truth sure seems like it's ripped from the headlines. But is it really? From the looks of it, Burden of Truth isn't based on a true story and the main character, attorney Joanna Hanley, isn't meant to be a fictional reincarnation of anyone in the real world. The drama was originally a Canadian-broadcast series on the CBC network, but upon acquiring the show, the CW added it to its summer lineup.
Other summer shows on the CW include The 100, The Originals, and Supergirl. But unlike those shows, Burden of Truth is based in a more grounded reality, which might make viewers wonder if there isn't some truth to the overall story. In its first season, the show is about Joanna, a big city attorney, who returns to her small hometown to potentially defend a pharmaceutical company after a group of girls claim to have fallen ill after taking a vaccine created by the corporation.
Instead, Joanna ends up fighting for the girls and begins a tug-of-war with the higher ups in town and, eventually her own father and his firm who are on the opposing side of the case. While the case seems like something that could happen in real life, Kristin Kreuk, who stars as Joanna, essentially squashed all notions of that being true when she spoke to the National Post about her character.
Kreuk actually played a role in the beginnings of the show's development. Brand Simpson created the show and then later stepped down as showrunner. But he also worked closely with Kreuk to really create the perfect character for her. "I feel like she's a creation of all of us," Kreuk said of her character, referring to all the people who had a hand in creating her. "[Joanna is] a little socially awkward — like me."
Executive producer Ilana Frank said that her vision was for the show to remind viewers of "a cross between 'Friday Night Lights' and a kind of [John] Grisham thing." She also said that the idea was for Burden of Truth to feel like a small town, but with more complex characters with their own stories and motives. So while the Season 1 story might seem realistic, it's completely fictional.
Kreuk did tell The Star that some of the inspiration for the show came from Erin Brockovich, which isn't hard to see. Like the classic film, Burden of Truth focuses on a strong woman warrior who sets out to do what's right at all costs.
In real life, there have been questions about whether or not big pharmaceutical companies are responsible for negative side effects of vaccinations, like what happens in Season 1 of Burden of Truth. According to HealthFreedomIdaho.org, by March 30, 2018, the Vaccine Injury Compensation Program had already paid out almost $107 million in claims since the beginning of the year alone. There's also an official "vaccine court," designed to focus on cases where parents may claim that their child was injured by or that their child's death was caused by a particular vaccine. Again, these instances weren't necessarily the case for Burden of Truth, but they prove that the show actually isn't too far off.
Season 1 is supposed to follow this particular case, so Season 2 could focus on something else. But chances are, it will again involve Joanna's continued struggles of being back in her hometown to fight for what's right.