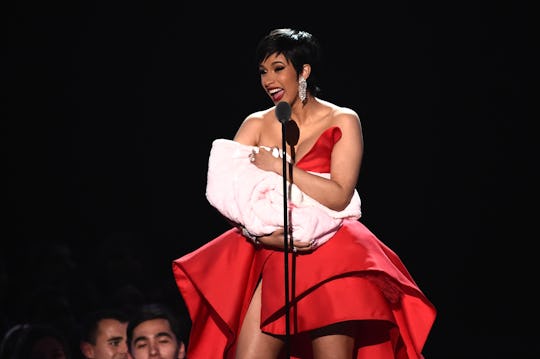 Michael Loccisano/Getty Images Entertainment/Getty Images
Here's Everything That Cardi B Has Said About Feeding Daughter, Kulture
Since becoming a mom last month, rapper Cardi B has kept her daughter, Kulture, out of the spotlight. But just because she hasn't been showing off her daughter on social media doesn't mean that Cardi B is shy about being a mom. Let's be real, she has been honest on social media about a lot of topics — from sex after giving birth to how demanding her daughter is. And fans who have been following along with Cardi B's journey should be wondering if Cardi B has been breastfeeding. Because if Cardi B is honest about all subjects, then she has to be real about breastfeeding too, right?
After welcoming Kulture into the world with her husband, Offset, on July 10, Cardi B has been devoting a lot of time to her little girl. This can be evidenced on social media, where Cardi B has been posting things on her Instagram Story, Instagram account, and tweeting about her daughter. But one thing that Cardi B has been a little vague about is breastfeeding. Although Cardi B has talked about feeding her daughter multiple times, but it is unclear if those feedings are done through a bottle or by breast.
Based on the way that Cardi B held the moon person award at the opening of the MTV 2018 Video Music Awards last week against her chest, it certainly seemed like Cardi B had plenty of experience holding her baby that way, according to NME.
Fans might be surprised to know that Cardi B had not been sold on breastfeeding before she gave birth. In June she told Rolling Stone in an interview that she was apprehensive about breastfeeding. According to Rolling Stone, Cardi B told the magazine that she wasn't sure about feeding her daughter that way because her breasts are "overly sensitive" and she couldn't imagine a little baby "milking" them. But, plenty of people were more than happy to volunteer their breastfeeding advice to Cardi B, like Hot 97 DJ Ebro Darden, according to Madame Noire.
Now that she has given birth, as previously stated, Cardi B has definitely talked about feeding her daughter but hasn't exactly mentioned breastfeeding (probably to maintain her privacy). Last week, on her Instagram Story, Cardi B wrote that she fed her daughter twice and bathed her daughter, who still wouldn't go to sleep. "She ain't with it," Cardi B wrote, according to People.
And after announcing that she was no longer going to join Bruno Mars on tour this fall, Cardi B took to Instagram Live last month where she told her fans that her daughter is pretty demanding, especially when it comes to wanting milk. Cardi B said, according to People:
I met my match. She is very demanding. I can't believe I have a boss. I really have a boss. When my baby wanna eat, she wanna eat. It's not like, "Oh three minutes," No. "Gimme the milk now!" You gotta burp her right away — everything, everything, everything. She wants everything.
This likely means that Cardi B is breastfeeding, according to Vogue.
In that same Instagram Live broadcast, Cardi B also said that she was afraid of leaving her daughter with a nanny because she is incapable of leaving her baby "not for one second," according to People. If Cardi B's daughter was relying on her for milk, this would make sense.
But Cardi B hasn't come out and confirmed whether or not she is nursing her daughter — so all of this is pure speculation. Until Cardi B confirms that she is breastfeeding her daughter or prefers feeding her with formula, fans won't know anything for certain. And no matter her decision to feed her daughter, it's always important to remember that fed is best — no matter how the baby gets their milk.
However, it is clear that Cardi B is already very familiar with the feelings that feedings bring mothers and it's obvious that she has those feedings down pat.