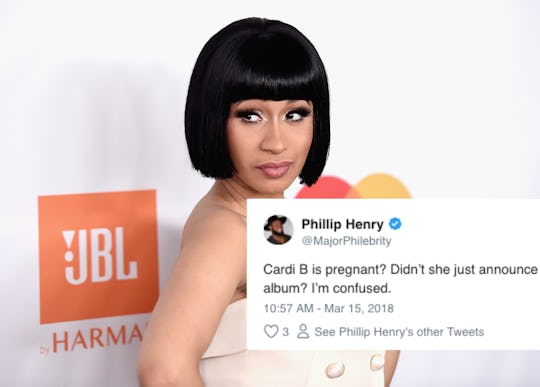 Nicholas Hunt/Getty Images Entertainment/Getty Images
There's *Another* Rumor That Cardi B Is Pregnant, & It's Confusing AF
Another day, another rumor about Cardi B's uterus. Following the unsubstantiated rumor in February that Cardi B is expecting her first child, TMZ reported on Thursday that she'll supposedly give birth this summer. It's a confusing piece of info, to say the least, especially since Cardi B has never confirmed that she's actually pregnant. So, is Cardi B pregnant for real this time? Here's everything you need to know about the latest rumor that's frustrating her loyal supporters. Cardi B's publicist did not immediately respond to Romper's request for comment.
Fans first caught wind of the pregnancy rumor in early February, when one of Cardi B's Instagram followers pointed out her supposed baby bump (ah, the joys of social media). Cardi B, who is no stranger to telling it like it is, shot back at the inquisitive fan, according to Glamour: "No b*tch I'm just getting fat. Let me fat in peace." Yep, Cardi B does not mess around when it comes to speculative gossip about her body.
A week or so later, however, Cardi B found herself at the center of more baby rumors when TMZ reported that she is expecting her first child with her fiancé and Migos rapper, Offset. The rumor kicked off because one of Cardi B's representatives supposedly told someone at her Super Bowl performance that she was three to four months pregnant. Cardi B didn't want to be in a "party atmosphere" following her set, and that's presumably why the rep spilled the so-called beans, according to VH1. It's also important to note here that Cardi B didn't address the initial report at the time, a move that some people might find suspicious given her outspoken nature.
But just when you thought the rumor mill couldn't get any more wild, TMZ reported on Thursday that Cardi B is pregnant and that she'll give birth to her first child in July. Additionally, sources supposedly told the outlet that Cardi B will still perform at Coachella in April as originally planned. It's a lot of speculation to take in, right? My head is spinning, to be honest.
As it turns out, a lot of people are just as confused as I am about this latest rumor.
Others are simply excited that the rumor could be true.
And if the report is true, Cardi B will definitely be very busy this summer. In addition to Cardi B's Coachella performance, she'll also be on tour for her new and untitled album. "My album will be coming in April," Cardi B announced while accepting an award at the iHeartRadio Awards on Sunday night, according to Newsweek. "Yes sir. April. Stay tuned, motherf*ckers."
Cardi B is expected to be on tour until October 2018, according to Songkick, and it looks like some of those tour dates will fall within July. Trés interesting.
Although all the touring might seem like a lot for Cardi B to take on if she is in fact pregnant, rest assured that the she's accustomed to hard work. "When I was a stripper, I used to strip like six nights a week," Cardi B revealed in a June 2017 interview with Fader. "I used to bust my ass. And I didn't stop [working]. Until today I work just as hard as I did before."
Not to mention, Cardi B has the support of Offset to see her through the difficult times. "He [Offset] is always taking care of everybody," Cardi told Rolling Stone in January. "Like, you know when you that one person that have the money, he really take care of everybody? He got to take care of his babies, so he overworks himself more than anybody I ever seen."
Of course, fans won't know if Cardi B is pregnant until she announces the news herself. Although the wait might be frustrating to Cardi B's loyal supporters, she's entitled to keep her private life private for now.
Check out Romper's new video series, Bearing The Motherload, where disagreeing parents from different sides of an issue sit down with a mediator and talk about how to support (and not judge) each other's parenting perspectives. New episodes air Mondays on Facebook.