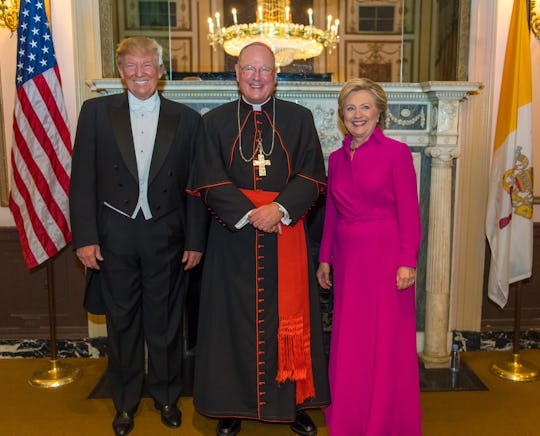 Handout/Getty Images News/Getty Images
Cardinal Dolan Isn't Exactly A Trump Supporter
Slated to read at Donald Trump's upcoming presidential inauguration next week, Catholic archbishop of New York Timothy Dolan will also be joined by four other clergy. Dolan in particular, though, has an ongoing history with the president-elect, which has many asking: Is Cardinal Timothy Dolan a Trump supporter? Dolan has criticized and clashed with Trump in the past, specifically regarding refugee rights, but his Catholic values align somewhat with traditional conservatism.
When asked about his participation in the event, Dolan provided a statement, saying:
I am honored to have been asked to offer a reading from Scripture at the upcoming presidential inauguration, and look forward to asking Almighty God to inspire and guide our new President and to continue to bless our great Nation.
This lukewarm response is in line with how Dolan has conducted himself in dealing with politically sensitive topics in the past. In an interview with Tiffany Stanley of "Religion & Politics" in April of 2016, Dolan spoke about his political values in the broader scheme of the election, saying:
I am not in the business of telling people what candidates they should support or who deserves their vote. But as a Catholic, I take seriously the Bible's teaching that we are to welcome the stranger.
Dolan elaborated on what he meant by "stranger," saying: "To welcome the refugee, the immigrant, is an extraordinary point in biblical virtue." Dolan's interview repeated his frequent calling to help refugees and immigrants; In a July 2015 opinion piece for The New York Daily News, Dolan postulated about growing nativism in the United States, even taking a stab at our current president-elect (then-candidate):
I wish I were in the college classroom again, so I could roll out my "Trump card" to show the students that I was right. Nativism is alive, well — and apparently popular!
Dolan appears to be referring to Trump's anti-refugee rhetoric that propelled his candidacy and has persisted through out his campaign. Certainly, Trump's promises to build a wall between the U.S. and Mexico and his once-proposed ban on Muslims entering the country are not at all welcoming in their message.
Dolan's most recent tone, however, has been more vague, keeping a perceived sense of humor about the president-elect. On an episode of CBS This Morning that aired during the December holidays, Dolan shared a message of hope, free of puns, saying: "Life trumps death – no pun intended – good trumps evil, good is victorious over bad, life conquers death."
Pre-election, Dolan by no means threw his support behind Trump, and he has still yet to show any sort of endorsement. In praying and reading at the inauguration, Dolan appears to be supporting Trump as a religious counselor more than anything else. Though he hasn't condemned Trump's imminent inauguration, he hasn't praised it, either.