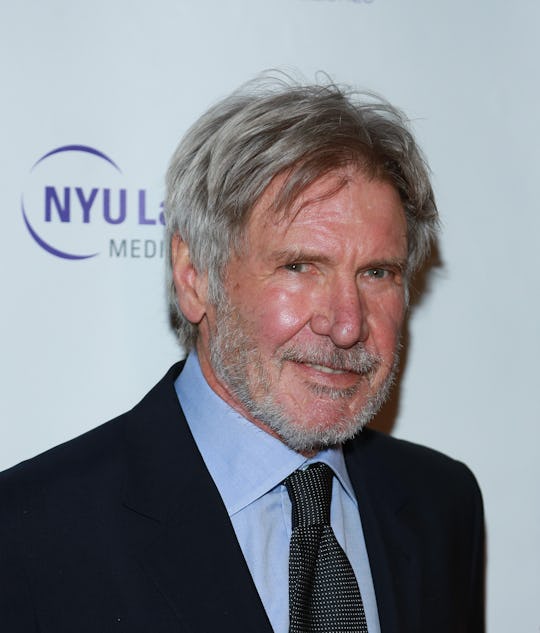 Rob Kim/Getty Images Entertainment/Getty Images
Harrison Ford Sends His Love To Carrie Fisher
After news broke on Friday afternoon that Carrie Fisher was in the hospital, fans and her colleagues flooded social media with their support. As of Saturday morning, fans were still wondering if the Star Wars actress was doing better and Harrison Ford's response to Carrie Fisher's heart attack had some scratching their heads. Ford told People, "I am shocked and saddened to hear the news about my dear friend. Our thoughts are with Carrie, her family and friends." But don't worry — Ford wasn't talking about death. He was just as shocked and saddened as everyone else was that the star had gone into cardiac arrest.
Fisher was on an 11-hour flight from London to Los Angeles when she allegedly had a heart attack about 15 minutes before landing, according to TMZ. An EMT who was luckily on the flight gave her CPR when she stopped breathing, according to witnesses tweets from the plane. Upon landing around noon at LAX, paramedics met the plane and rushed the actress to a nearby hospital.
United Airlines on Friday evening saying, "Medical personnel met United flight 935 from London to Los Angeles upon arrival today after the crew reported that a passenger was unresponsive. Our thoughts are with our customer at this time and any requests for additional information should be directed to local authorities."
Fisher had been in London finishing up a book tour for her new memoir The Princess Diarist and had also been filming the latest season of Amazon's Catastrophe in London, in which she plays the mother of Rob Delaney's character.
Fisher and Ford recently made headlines again since the actress revealed in her new book that they had had an affair while filming the original Star Wars film. She reflected on NPR after the release of the book that she told Ford she would write about the affair but that he never responded to her final drafts. "I wouldn't have ambushed him like that, but it's still — no matter if I told him or not, it probably feels like an ambush. It feels like an ambush to me, and I'm the one that wrote it," she said.
Ambush or not, the two seem to be on good terms, given his response to news about her health. Fisher was in critical condition throughout Friday evening, though her brother Todd Fisher said that she had been moved to the intensive care unit. Her family asked fans and media for their support during this difficult time. "If everyone could just pray for her that would be good. The doctors are doing their thing and we don't want to bug them. We are waiting by patiently," he told Entertainment Tonight.
Hopefully Fisher's condition will be stable soon.