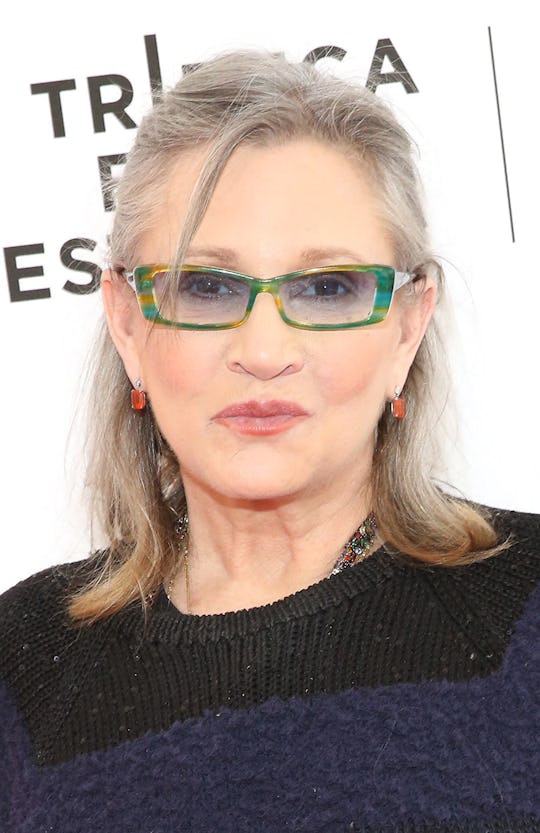 Robin Marchant/Getty Images Entertainment/Getty Images
Carrie Fisher Had One Last Project In Production
After suffering a heart attack on a flight from London to Los Angeles on Friday, Dec. 23, actress Carrie Fisher, best known for playing Princess Leia in the Star Wars franchise, has died. She was initially reported to be in stable condition by her mother, Debbie Reynolds, after being rushed off the flight by paramedics to a nearby hospital. But unfortunately, on Tuesday, Dec. 27, Fisher's daughter Billie Lourd released a statement saying she had passed away that morning. Her death is heartbreaking to many fans who may be wondering: is Carrie Fisher in any upcoming Star Wars movies? As it turns out, she still has one film in post-production.
Fisher returned to the franchise for Star Wars: The Force Awakens in 2015, reprising her role as Princess Leia — only this time, she held the title of General. She joined Harrison Ford, Anthony Daniels, Peter Mayhew, and (very briefly) Mark Hamill in reprising their original roles, making way for a new generation of Jedis to embark upon their own adventures. She was also cast in the upcoming Star Wars Episode VIII, which began filming in February of 2016. It's slated for a December 2017 release, and it will be Fisher's final turn as Leia.
Just how many of her scenes she got to film before her devastating death at age 60 is unknown, but with ten months of filming in the bag already, she'll surely have some work to display in the movie. It's possible Episode VIII may require some reworking to account for any scenes she hasn't yet filmed, but fans can be grateful for one last return to Princess Leia before her death.
As well as looking up to her for providing the rare strong female heroine in a film genre dominated by men in the 1970s and 1980s, women revered Fisher as a writer and a mental health activist. She wrote three books chronicling her life, titled Shockaholic, Wishful Drinking, and The Princess Diarist, in addition to several novels. Her memoirs included accounts of her struggle with addiction as an actress in Hollywood, as well as her eventual bipolar disorder diagnosis.
Fisher is largely credited by her fans with discussing women's mental health issues frankly and openly, normalizing the conversation, and helping to destigmatize many marginalized women's struggle. More than just a trailblazing actress, Fisher was a storytelling trailblazer herself, leaving behind a real-life legacy that lived up to the hero she played on screen.