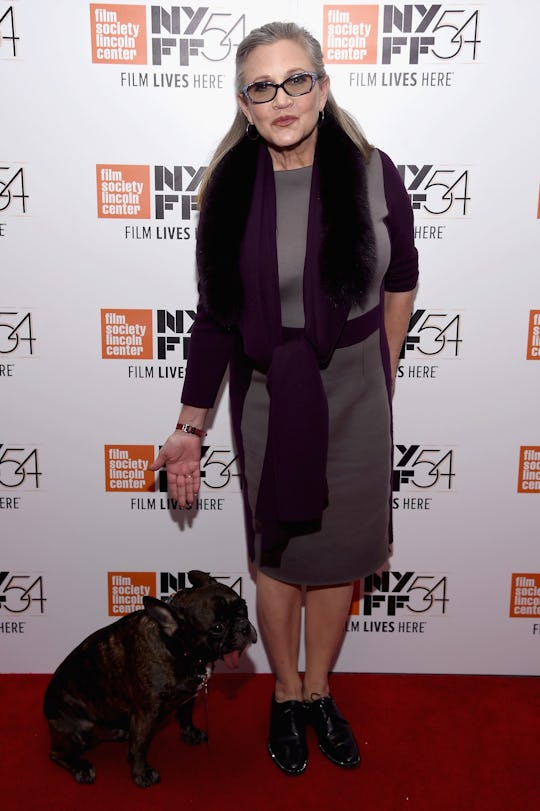 Dimitrios Kambouris/Getty Images Entertainment/Getty Images
Carrie Fisher's Urn Appears To Be Pill Shaped
Carrie Fisher will be missed for her very colorful and honest personality. In life, Fisher was forthcoming about living with mental illness — which People referred to as "revolutionary" — and was known to be quite humorous about it. Carrie's humor and legacy will definitely live on — which makes sense, because it appears that Carrie Fisher's urn is a pill. This nod to her wonderful life and legacy has fans perplexed — it's a seriously interesting urn for one very interesting woman.
Fisher and her mother, Debbie Reynolds — who died just one day after her daughter — were laid to rest on Friday at the Forest Lawn Cemetery in Los Angeles, California. The ceremony was a celebrity filled event, according to The Daily Mail, with friends close to Fisher and Reynolds paying their respects to both mother and daughter. Reynolds was laid to rest in the family plot at the ceremony — and Fisher, who was cremated shortly after her death according to The Daily Mail, had some of her remains buried with her mother. The very funny and very blunt actress always knew how to make an entrance — and entered her own funeral in an urn shaped like a Prozac pill held by her younger brother, Todd Fisher.
Prozac is a medication, that comes in pill form, used to treat a variety of issues, such as bipolar disorder — which Carrie suffered from, according to E!. There are different versions of the pill (it's generic name is fluoxetine) — but the Prozac pill has a unique coloring to it — white and light green. Looking at photos of Prozac pills make it clear that Todd is definitely holding an urn, modeled after a Prozac pill.
Carrie's urn is a hilarious homage to the actress who was so forthcoming with her struggles, reminding people that they were never alone with their issues. According to People, Fisher had bipolar disorder and had suffered from substance abuse. But the actress sought help and even had a service dog which helped her with her problems. Fisher was honest about her use of medication to help with her problems, telling USA Today:
There is treatment and a variety of medications that can alleviate your symptoms if you are manic depressive or depressive. You can lead a normal life, whatever that is. I have gotten to the point where I can live a normal life, where my daughter can rely on me for predictable behavior, and that's very important to me.
Fan's reactions to Fisher's urn proves just how much of a legend the actress is — and proves that she will remain an icon:
Fisher always knew how to make an entrance — this time, it is no different.