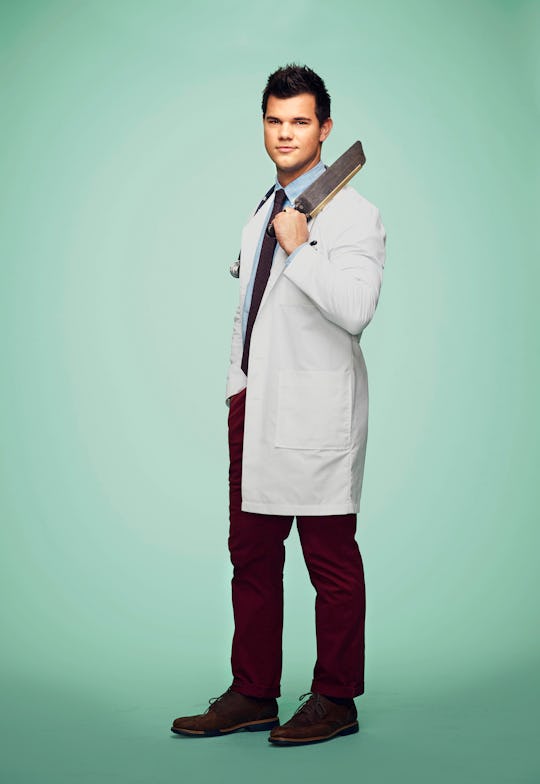 Tommy Garcia/Fox
Is Cassidy Dead On 'Scream Queens'? He Certainly Believes It
There is officially a monster theme on Season 2 of Scream Queens, and I'm not just talking about the patients. While cleaning up cadaver remains, Dr. Cassidy "Female Viagara" Cade and Chanel Number 3 had a heart to heart, or at least as close to a heart to heart as these two can have. And they both revealed a deep dark secret about themselves. Is Cassidy dead on Scream Queens? He certainly seems to think so.
While consulting with a patient who suffers from constant orgasms (this is a real disorder by the way), Cassidy notice that Number 3 seemed a little sad. She confessed that she's never experienced an orgasm, and thought that those moans people made were just a way to signal the other person to roll off of you. This is where Cassidy revealed that he is dead. Well, he believes he is, anyway. Bringing our vampire theory full circle. Apparently he was at a rager his junior year of high school, passed out, and choked on his own vomit. Then when he woke up, he just "knew" he was dead. Number 3 seemed to buy it, but I'm not sure that I do. I mean, couldn't he have just... you know... woken up?
Then, naturally, Number 3 and Cassidy make out, and Number 3 admires his lips which are "so cold."
Cassidy also believes that he may have come back to life in a Night of the Living Dead situation, or maybe, more intriguingly, he's come back because the universe has a larger plan for him. Maybe there's a task that he's meant to fulfill in order for his soul to find peace in the after life. Maybe his task is to make Chanel Number 3 feel alive again. "I may be dead but you are not," he tells her. My guess is that he's going to try to make her feel alive by giving her the "Big O." I don't know if this will necessarily work, but I ship it.
My only remaining worry is that we're going to finally find the answer to Cassidy's potential immortal status when he's the Green Meanie's next victim. And I'm just not ready to lose this particular sexy non-sparkly vampire doc.