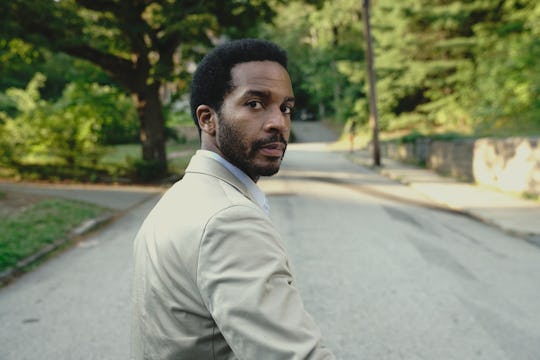 Patrick Harbron/Hulu
Hulu's 'Castle Rock' Revisits The Canon Of Stephen King
The Hulu series Castle Rock follows a man named Henry Deaver who returns to his hometown in Maine after many years away. Though haunted by his own demons, he also becomes embroiled in the story of "the Kid," a strange young man who is found in a cage in the local state penitentiary, Shawkshank. It all sounds too outlandish to be based on anything that actually happened, but the truth is sometimes stranger than fiction. So is Castle Rock based on a true story?
It is not, though Shawkshank might have been a major tipoff. Castle Rock weaves together several Stephen King stories that were set in the town of Castle Rock, Maine. It's one of King's favorite go-to locations, along with Derry and Jerusalem's Lot, but all three places are most definitely made up. King does come from a small town in Maine himself (Durham), but the goings-on in his stories are entirely untrue.
Hulu described the show as "a psychological-horror series set in the Stephen King multiverse." Castle Rock has been featured in at least four of King's novels, including Cujo, The Dark Half, IT, and Needful Things. It also appears in the novella The Body and the short story "Rita Hayworth and The Shawshank Redemption." Many of those works have been adapted before, but not quite in this way. A true King scholar could probably point out all of the Hulu series' countless references, because it patches together tons of his projects in a very unique way.
Castle Rock will be an anthology series, to better fit in more of King's massive canon. Ben Stephenson, the head of TV at producer J.J. Abrams' company Bad Robot, clarified how that will work for The Hollywood Reporter. According to him, the show will remain in the same town over the years, but other details are subject to change. Stephenson said:
It's sort of an anthology. Each season may or may not feature the same cast. It's the story of the town — and there's a church and there are houses, and that will not change. But each [season] will look at the town from a different point of view from a different character. In the end, the plan is that this is all one big linked world where characters cross and co-exist in the same world.
It's like narrative scrapbooking. While anthology shows are popular at the moment, especially when it comes to horror (FX's American Horror Story and Syfy's Channel Zero come to mind), they're not usually employed in quite this way. The different seasons of AHS are becoming increasingly linked, but it looks like Castle Rock will be building something interconnected from the start.
New characters were invented solely for the show, too. While Castle Rock wouldn't exist without King's writing, you don't have to have read every single work by King to enjoy it. Sam Shaw, one of the series' creators along with Dusty Thomason, told USA Today that "the hope was to build a show that would really reward the eagle-eyed, Ph.D-level Stephen King completist superfan and also somebody coming to the material with fresh eyes."
There may be aspects of the show that feel familiar, but it's more likely that they'll be hearkening back to some previous work of King's than referencing any real life event. King gets his inspiration from a variety of sources, including news stories and his very own garden, but there is no singular unifying source that gave rise to Castle Rock. Instead it's a mix of different characters and ideas, some of which came from King and some from elsewhere, that were all blended together to create something new.