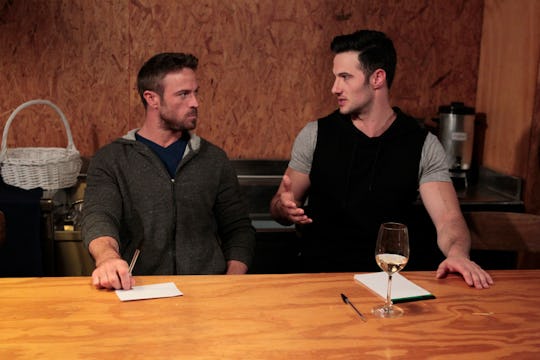 Rick Rowell/ABC
Is Chad Friends With Any Of The 'Bachelorette' Guys Still? He Made One Friend
Chad has quickly gone from run-of-the-mill, irritating Bachelorette villain to positioning himself as fully terrifying, violent, security-requiring door-puncher. Presumably not wanting things to escalate to human-punching levels, Evan has a heart-to-heart with Chris Harrison on Week 3 of JoJo's season of The Bachelorette, hoping to bring Chad's volatile nature to the attention of the show. Most of the house seems united against Chad, with the exception of Professional Canadian Daniel, who seems to be Chad's only ally in the house. So is Chad friends with any of the Bachelorette guys in real life?
Um, it's safe to say Chad wasn't really in it to make friends. The only person he seems to connect with is Daniel, and even he calls Chad out on some of his unacceptable behavior a couple of times — albeit in a much gentler way than the rest of the guys. Chad's biggest enemies seem to be Jordan, Evan, and Alex, though none of the guys particularly like him. He calls Jordan out for being a "failed football player" who's done nothing with his life; he gets in Alex's face a bunch of times; and he completely snaps on poor Evan and rips his shirt off in the middle of a group date. And like...not in the sexy way. Chad also bought domains named for Robby, Chase, Derek, and Alex, and redirected all the sites to his own Instagram page, which is among the most annoying pranks ever heard of.
Alex clapped back with this photo of the guys' ESPN SportsCenter group date limo ride, featuring one conspicuously blurred out contestant:
Daniel has posted a few screenshots and videos of his workout grunt-bonding with Chad to his Instagram, suggesting that perhaps the pair parted ways as amicable acquaintances. But the posts mostly consist of passive aggressive homophobic teasing about the way Chad was admiring Daniel's workout form, and questioning whether he was really "there for JoJo." So it doesn't seem like the sincerest bond ever forged. Needless to say, it doesn't look like there's much love lost between Chad and the other Bachelorette contestants this season. Maybe he made nice with some of the security detail assigned to make sure he doesn't punch out his bunkmate?