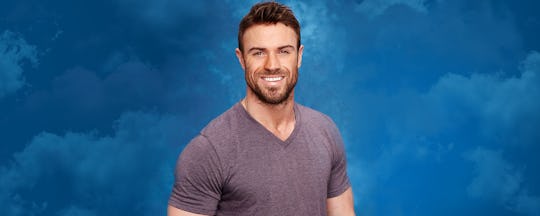 Craig Sjodin/ABC
Is Chad The Villain On 'The Bachelorette'? He Didn't Come Here To Make Friends
Excuse me while I dust off one of my favorite Bachelor/Bachelorette sayings for this season of The Bachelorette's early bad guy. Ahem, Chad on The Bachelorette is already the villain, and guess what, I think we can already confirm that he definitely didn't come here to make friends. And you know what? That's OK. He doesn't have to come on the show to braid friendship bracelets and meet his future best man — or even men — but, he's also not that likable this far on the show, and fans are already taking note.
The first few episodes of the season are crucial for fans. Episode 1 is overwhelming, and Episode 2 is when we actually get to hand out our proverbial first impression roses to those men we like. You don't have to be the most relatable man ever, but you do have to at least be a little likable. Chad hasn't quite nabbed that second part, yet. He's controversial, negative, and has a winner's attitude... except he hasn't won anything yet. He referred to the first group date as JoJo's "B Team," which was clearly to stroke his own ego. Let's call a spade a spade, Chad. You were hurt you didn't get that first date.
Twitter was quick to call Chad out for being "a Chad" as Bachelor superfan James S. referred to him as.
Twitter isn't the only crew to notice Chad's Chad-ness. Some of the men on the show took notice of Chad's behavior and attitude, and clearly that's going to propel the rest of the season. Other than his new best friend, Daniel, Chad is going to find himself on the outs with a lot of the men, according to the season previews. Some of the clips even suggest that Chad becomes violent, but we can't really bet on that until a punch is thrown. And let's hope it doesn't get to that point. This show is a lot of things, but physically threatening should not be one of them.