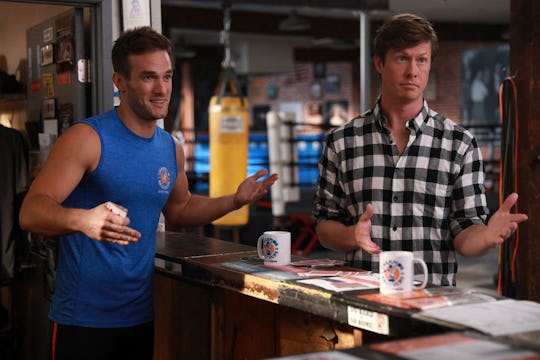 Jordin Althaus/NBC
Mindy Kaling's New Show 'Champions' Takes Place In A Familiar Locale
If you're a Mindy Kaling fan (and who isn't?) then you'll have heard of her new show, Champions, about a washed up former athlete who takes over his family gym in Brooklyn. You may now be wondering if Champions is a real gym or a complete work of fiction. And the answer is a little bit of both. Sure, there is a Champions Fitness Center in Brooklyn. And actually there's probably more than one gym in Brooklyn called Champions, but it is not the specific gym around which the new show revolves.
The premise of the new show is almost too perfect for a sitcom. Having given up on his dreams of becoming a star basketball player, Vince lives with his sweet younger brother Matthew and runs the family gym, Champions. Then one day, his old flame Priya (played by Kaling herself) drops off the couple's 15-year-old son Michael on his doorstep so that he can attend a prestigious performing arts school in New York City and follow his own dreams. And because it's a Kaling sitcom, the show is sure to be as smart, witty and warm as everything the world has come to expect from her. And of course, the Champions gym is staffed with a large roster of colorful characters who are both lovable and irritating.
These characters include Mindy Project alum Fortune Feimster as Ruby, a trainer and Vince and Matthew's oldest friend; a yoga instructor and aspiring Instagram influencer; a spin instructor with theater dreams; and the lovable Uncle Bud, who's an old-school boxing instructor struggling to keep up with the modern age. But unfortunately, it looks like this gym with its all of its appealingly off-beat staff only exists on the screen.
In an interview with Entertainment Weekly, Kaling said that she and co-creator Charlie Grandy wanted to set the show in a gym, because it would be a rich comedic area. "We thought this would be a more inclusive environment, and this body image stuff is so funny," she said. "We get a ton of comedy out of the trainers and their relationships with their clients on the show." So Champions isn't a real gym, just like Dunder Mifflen isn't a real paper company.
I scoured the internet looking for evidence of a real-life family owned gym named Champions in Brooklyn and I found a few different things. I found a Champions Fitness Center Kickboxing studio, located in deep south Brooklyn near Sheepshead Bay and Coney Island. But it definitely doesn't look like this in any way resembles the sitcom version of Champions. I also found a martial arts studio named Champions that has a location (one of many) in the Clinton Hill neighborhood of Brooklyn, but that doesn't look exactly right either.
It's always possible that Kaling based her Champions gym off of a different family owned spot in Brooklyn, of which there are undoubtedly several. It's not hard to find family-owned businesses in Brooklyn, but it is hard for these spots to compete with popular chains like Equinox, Crunch, or Planet Fitness. So if you're located in Brooklyn and hoping to go to a gym with a similar sort of family vibe, do a bit of digging and I bet you'll be able to find a fun, independently-owned spot. You probably won't get Fortune Feimster as a personal trainer, though, I'm sorry to say. Although if Feimster was my trainer I'd probably be a lot more likely to actually get to a gym.
Champions premieres on NBC on March 8, at 9:30 p.m. E.T. I can't wait.
Check out Romper's new video series, Romper's Doula Diaries:
Watch full episodes of Romper's Doula Diaries on Facebook Watch.