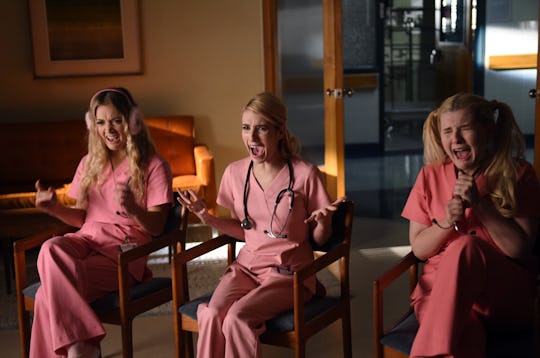 Is Chanel Number 5 Dead On 'Scream Queens'? Season 2 Started Off With A Surprise
Scream Queens has never shied away from offing its characters if it served a purpose (remember when Ariana Grande was Chanel Number 2?), though we could be fairly certain that certain people would stick around if only because they were the heart and soul of the show. Chanel Oberlin always seemed fairly safe, as did Dean Munsch, but part of the fun of the comedy-horror show is that nobody can get too comfortable. Right number 5? Is Chanel Number 5 dead on Scream Queens? Well, Season 2 certainly started off with a bang.
We open Season 2 in a hospital, which Dean Munsch has decided to start for reasons. The hospital is staffed by John Stamos, Taylor Lautner, and Kirstie Alley, which is absolutely fantastic and gives me confidence that Season 2 is going to serve up all that Season 1 did and more. Zayday and the Chanels also work in the hospital, because of course they do. I don't know what anyone's up to quite yet, but it is highly possible that Chanel Number 5, my beloved, insufferable Number 5, might not even live to see their schemes revealed. If you don't like spoilers, now is a good time to stop reading.
The episode ends with Number 5 locked into a hydrotherapy tub and staring at the business end of a hatchet that has just been used to lop off Cecily Strong's head. Strong had played the hospital's first patient, a young woman with some sort of werewolf disease, in which she was covered from head to toe in grizzly hair. While the red devil is now safely imprisoned (though I doubt for long) the girls are now apparently being terrorized by a Green Devil, as it was a person in a dark green suit and horned mask who was wielding the knife (or was it a surgical blade?). In any case, the last thing we get to see as the episode closes is the Green Devil -- or perhaps Monster -- swinging the knife while poor Number 5 screams, totally trapped. I'm not convinced that the show will actually kill off Number 5. But then again, I wasn't prepared to say goodbye to Number 2 either.
More to come...