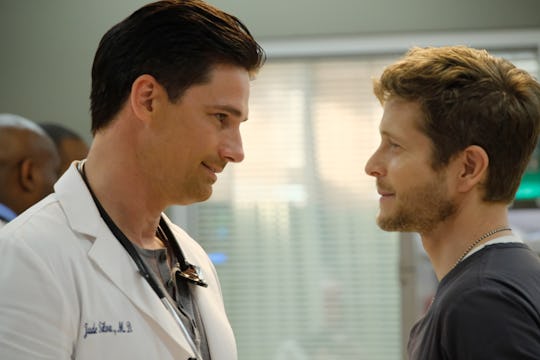 Guy D'Alema/FOX
The Hospital Featured On 'The Resident' May Sound Familiar
An all new medical drama is coming to FOX this Sunday, airing right after the NFC Championship. The new series, titled The Resident, follows a young doctor, Dr. Conrad Hawkins (Matt Czuchry), during his final years of training at Chastain Park Memorial hospital. So is Chastain Park Memorial a real hospital on The Resident?
Although the hospital itself is totally fictional, there is actually a Chastain Park in Atlanta, Georgia. The park is the largest city park in Atlanta and also includes an amphitheater and pool, amongst other features. It's unclear if The Resident will be taking place in Atlanta, but it wouldn't be surprising if it is and that's where the name of the hospital came from.
The Resident joins a long line of medical dramas, but this new series will be a little different than those that have come before it. Unlike other shows, The Resident will pull back the curtain on what's really going on in hospitals. According to a press release, Hawkins, along with the other young doctors he works with, will be fighting an uphill battle against the "money-driven system in health care that operates, to all of our detriment, with virtually no oversight." The show will look at the dangers of such a system and show why medical errors are the third leading cause of death in America. In other words, this may make you want to run away from hospitals, not go to them.
At the top of the food chain in the hospital is Dr. Randolph Bell (Bruce Greenwood), who, based on the trailer, clearly shouldn't be operating anymore. It's unclear what exactly is going on with him, but in the operation room he has a slip up that ends up killing his patient. However, he and the other doctors and nurses in the room decide to cover it up, claiming the patient died from a heart attack. Enter Conrad who wants to tell the truth, but doesn't have the power to go up against Dr. Bell, who has seniority and notoriety on his side.
Although Conrad can be idealistic, it's clear he's also learning how to play the game in the hospital, deciding for himself what's right and what's wrong. He'll be assigned a new medical intern, Dr. Devon Pravesh (Manish Dayal), who he'll show the ropes of the hospital and also teach him that not everything he learned in medical school has real world applications. Just as Conrad has learned some of the faults of being doctor, Devon will also learn them as well.
Also starring in the series is former Revenge star Emily VanCamp as Nurse Nicolette Nevin and Conrad's on-again/off-again girlfriend. Other cast members include Moran Atias, Merrin Dungey, Shaunette Renée Wilson, Melina Kanakaredes, and Todd Harthan. But even though the series will be looking at the darker side of the medical world, there will still be some hopeful moments that will restore you faith in medical practices, at least a little bit.
For instance, in the trailer, Conrad is shown saving a patient's life but he also reveals that a patient once died on his watch because he gave her too much potassium. Thus, just like with many other medical shows and presumably in real life, these doctors will have their missteps, but they'll also have their triumphs. This show definitely has the potential to do well and may give ABC's new medical drama, The Good Doctor, a run for its money. Then again, there's always room for more medical dramas, right? I guess we'll just have to watch and see.
The Resident premieres Sunday, Jan. 21 at 10 p.m. EST on FOX and will then move to its regular time slot on Monday nights at 9 p.m. EST. Make sure to check it out and prepare to be hooked.
Check out Romper's new video series, Romper's Doula Diaries:
Watch full episodes of Romper's Doula Diaries on Facebook Watch.