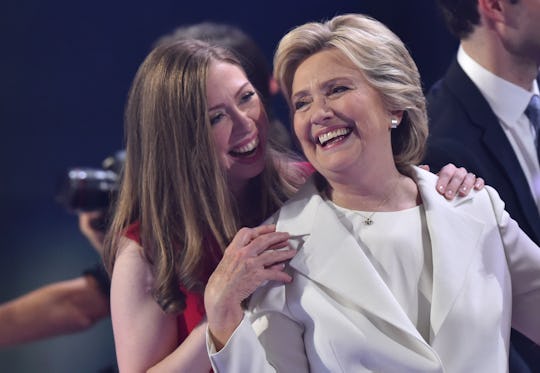 NICHOLAS KAMM/AFP/Getty Images
Is Chelsea Clinton At The First Presidential Debate? She's Her Mom's Biggest Fan
Democratic presidential candidate Hillary Clinton is taking the podium tonight — for the first time — against Republican candidate Donald Trump. While she's been preparing for the showdown for a while now, many are wondering whether her number one supporter showed up to cheer her on. So is Chelsea Clinton at the first presidential debate? Chelsea has been one of her mother's biggest supporters leading up to the debates, and she's advocated for Hillary at multiple campaign stops, so it was no surprise that Chelsea showed up to support her mother in person on debate night.
The week before the debate, Chelsea was on the campaign trail with her mother, speaking to hundreds of students at Michigan State University about voting for Hillary. "I'm really really proud to be her daughter," Chelsea said, according to The Detroit News. "But I'd like to think, even if I weren't her daughter, I would be just as passionate about her campaign and just as excited to vote for her." Chelsea then went on to Ohio to speak at Youngstown State University on Saturday.
Sunday was a conflicting date for Chelsea, however: Not only was her mother taking on Trump in Hampstead, New York, but it was Chelsea's daughter Charlotte's second birthday, as well. Still, Chelsea showed up to support her mother in person at Hofstra University, tweeting "Can't believe Charlotte turned 2 today!" followed quickly by an "On my way to the debate!" on Monday.
With the general election less than two months away, Chelsea doesn't plan to stop stumping for Hillary. "We're just going to keep working hard," Chelsea told the crowd at Youngstown's Covelli Centre on Saturday, where she spoke about gun regulation, minimum wage, and paid leave. "We're going to talk to as many people as possible [about] what's at stake in this election. There are very clear differences between my mom and Trump."
"This is the most important election of my lifetime," Clinton said during a recent visit to Flint, Michigan, according to The Michigan Daily. That commitment has come through in Chelsea's increased involvement in her mother's campaign this year — a role that Chelsea didn't embrace quite as much during her mother's 2008 presidential run. As she explained during a campaign stop in Milwaukee, according to CNN:
What matters now that I'm a mom myself is that my mom has been fighting for, making progress on issues that really matter to me.
And, judging by Chelsea's support of her mother tonight from the debate floor, that hasn't changed.