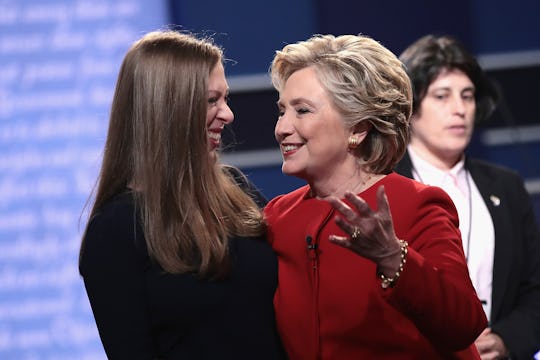 Drew Angerer/Getty Images News/Getty Images
Is Chelsea Clinton Attending The Second Presidential Debate? She Was At The First
At the first presidential debate, former First Daughter Chelsea Clinton supported her mom, former Secretary of State Hillary Clinton, from a seat next to her dad, former President Bill Clinton. Though the focus of every debate is on the candidates, their guests can seriously shift the dynamic in the room. With Republican presidential nominee Donald Trump hinting at a desire to bring Bill's infidelity into the conversation, Chelsea's presence at the second debate could play a role in how far Trump is willing to go. With the stakes so high, is Chelsea Clinton attending the second presidential debate? Though it appears as though no formal announcement has been made, there is a precedent for her to be there.
The second presidential debate is scheduled for 9 p.m. on Sunday, Oct. 9 at Washington University in St. Louis. Though ABC News' Martha Raddatz and CNN's Anderson Cooper are set to serve as moderators, about half of the 90-minute debate's questions will come from undecided voters in the audience, according to ABC News. The town hall format stretches candidates to engage with voters personally and connect with them emotionally, delivering a much different feel than the first and third debates. Many of Trump and Hillary's family members cheered them on from the audience during the first debate on Monday, Sept. 26, including Chelsea, but WTOP reported that she didn't attend the debates during the primary. ‌
Chelsea, the Vice Chair of the Clinton Foundation, is playing an active role in Hillary's campaign, making it likely that she'll be in the audience for the second debate. What is perhaps unexpected is that Chelsea's name is actually being brought up in relation to what will be discussed. After the first debate, Trump mentioned that it took restraint to avoid attacking Hillary by bring up Bill's past infidelity, according to Politico:
I'm very happy that I was able to hold back on the indiscretions with respect to Bill Clinton. Because I have a lot of respect for Chelsea Clinton and I just didn't want to say what I was going to say.
Trump did indicate that he might leave the topic on the table for the next debate, prompting Cosmopolitan's Prachi Gupta to ask for Chelsea's reaction to Trump's comments. Chelsea said that Trump's words are par for the course:
Well, my reaction to that is just what my reaction has been kind of every time Trump has gone after my mom or my family, which is that it's a distraction from his inability to talk about what's actually at stake in this election and to offer concrete, comprehensive proposals about the economy, or our public school system, or debt-free college, or keeping our country safe and Americans safe here at home and around the world.
She went on to say that she's spent her entire life privy to attacks on her parents, but that she's almost more appalled by Trump's willingness to insult the American people. Whether Chelsea is in the audience Sunday or not, Trump's words may be forcing her to steel herself for the possibility of uniquely-targeted attacks. But if Chelsea's Cosmopolitan interview is any indication, she's got the experience, the preparation, and the poise to handle any personal attacks the Republican presidential nominee makes on Sunday.