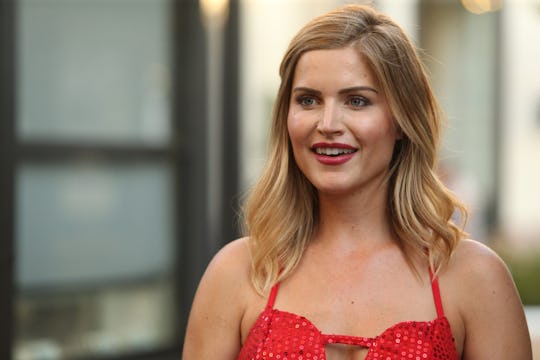 Paul Hebert/ABC
Chelsea Is Being Coy About Her Love Life After 'The Bachelor'
Though I initially thought she was going to be the "villain" of the season, single mom Chelsea has grown on me during this season of The Bachelor. So naturally I want to know what's happening with her post-Chris Harrison. I found myself wondering, is Chelsea still single after The Bachelor? Adept social media sleuth that I am, I can definitively state that she has at least one man in her life, and that she is completely in love with him. Yes, I am talking about her son, Sammy, but it still counts.
Week one of the season, Chelsea didn't make any friends when she was the first to steal off with the star of the season, Arie Luyendyk Jr., engage in the first full-on make-out and thus capture the coveted First Impression Rose. But in the following weeks, her aggression seems to have mellowed somewhat, and allowed Krystal to overtake her in the "villain" position rather spectacularly. In the following weeks, Chelsea talked mostly about being a mother, which is clearly so important to her. A simple perusal of her Instagram and Twitter doesn't say whether she's dating anyone now that filming for The Bachelor is over, but it is full of love for her ride-or-die number one guy and that's her adorable little boy.
To be honest, I don't think that Chelsea is going to win this season of The Bachelor. For starters, after the first episode aired Arie himself went on Jimmy Kimmel and seemed to confirm that Chelsea wouldn't be his pick in the end. Kimmel attempted to predict the winner of the season by showing Arie photos of four women, and guessing how far they'd get. When he held up Chelsea's photo, Arie gave a small shake of the head, indicating that she would not be the lucky lady to get Arie's final rose.
So if my calculations are correct, that means that Chelsea won't be the winner in the end. But maddeningly, she's been very coy with her social media pages, posting nothing that would clearly indicate a relationship status. All that I can say is that she appears to be in Maine, judging by the plethora of snowy pictures she's been posting, one of which was tagged as "The White Mountains," a mountain range in New Hampshire and part of Maine. So at the very least we can say definitively that she's not been hanging out in Arizona (where Arie lives) at all.
Because that would be just too obvious, she has not posted a relationship status on her Facebook page either. In fact her Facebook reveals nothing except the fact that she lives in Portland, Maine and has a little boy named Sammy, which we already knew. So sadly my quest for information from that quarter has been denied. But though I don't know definitively whether or not she's dating anyone right now, I really hope she is, because she deserves it.
On Week 5, Chelsea revealed the truth of her own romantic history, specifically with regards to Sammy's dad, who doesn't sound like the greatest guy to be honest. She told Arie that they got together when Chelsea was very young, and he was much older than her and far more successful. She felt like he was trying to mold her into the woman he wanted. They were together many years until he left her for another woman when her son was just six months old.
So maybe she didn't find love with Arie, but I somehow doubt that she's destined to be single for the rest of her life. She may even be dating right now, but keeping it a secret. And if she's not, at least then we have a chance of seeing her on Bachelor in Paradise.