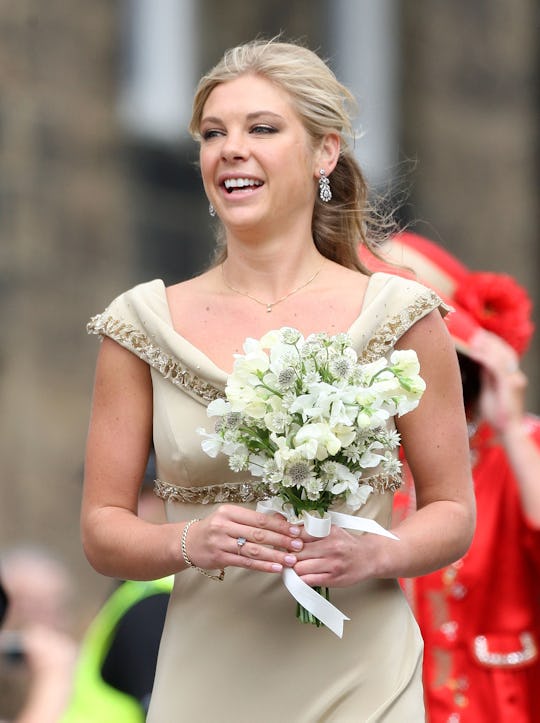 Danny E. Martindale/Getty Images Entertainment/Getty Images
The Royal Wedding Included Royalty, Oprah, & Yes, Prince Harry's Exes
Following the news of Prince Harry and Meghan Markle's engagement in November 2017, many people were quick to bring up the couple's exes. For instance, some fans theorized that Chelsy Davy, Prince Harry's girlfriend on-and-off again girlfriend of seven years, was jealous about the duo's good news. Of course, the commentary was nothing more than speculation, and Davy has never commented publicly on Markle and Prince Harry's wedding plans. Despite Davy's silence, however, a few royal enthusiasts argued that she *might* attend nuptials — the couple did date for almost a decade, after all. So, is Chelsy Davy at the royal wedding? Yes, and also a little bit no.
Just eight days before Saturday's nuptials, a source confirmed that Davy planned to attend the church ceremony. "Chelsy has been telling everyone she has been invited to the wedding and she is shopping for the perfect gown," the supposed insider revealed, according to Vanity Fair. "She wants to look her very best and has been given a plus-one."
Another source confirmed the invite, telling the Daily Mail in February 2018: "Harry has stayed good friends with Chelsy and Cressida [Bonas], so they will be there. He made sure there were no hard feelings when they split up. I don't think Meghan will mind."
Although it might seem strange that Prince Harry reportedly invited Davy to his wedding, it actually makes a lot of sense. "I think we will always be good friends," Davy told The Sunday Times in June 2016.
As for whether Davy took up her "good friend" on his wedding invite, it looks like the answer is yes. Davy showed up to the ceremony, just as sources suspected. It looks like the exes remain close after all.
But what about the wedding reception at the Frogmore House? Is it possible that Davy will show up at the fancy after-party where the Spice Girls will reportedly perform? "She [Davy] has not been invited to the evening party. Her nose is a bit out of joint but we've told her she's lucky to be going to the actual wedding," a source said about Davy's supposed snub, according to She's still hoping she might be asked to attend the evening party, too." Dang. I guess Davy and Prince Harry aren't that close. Only time will tell if Davy does ultimately score an invite to the coveted affair.
Either way, this special day is ultimately about Markle and Prince Harry. It makes perfect sense that they wouldn't want to jeopardize their happiness simply to accommodate an ex. The two have looked forward to this day for six months, after all.
On the topic exes, it's really no surprise that Markle's ex-husband, director Trevor Engelson, didn't attend the wedding ceremony. Markle and Engelson have a tense relationship, to say the least, and they didn't end on good terms like Davy and Prince Harry did in their relationship. Making matters even more uncomfortable for Markle is that Engelson is reportedly developing a television show based on her relationship with Prince Harry, according to Deadline. Talk about awkward, right?
Although it's unfortunate that Markle didn't feel comfortable to invite Engelson, it's pretty cool that Prince Harry is friendly enough with Davy that she felt OK to attend the wedding OR supposedly received an invite. Things tend to be easier when everybody can get along, and the royal newlyweds are no exception to this phenomenon.