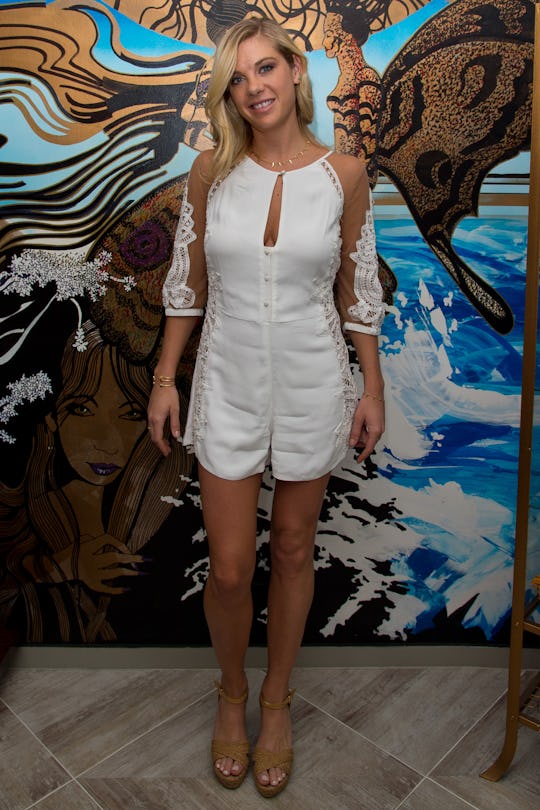 Ben A. Pruchnie/Getty Images Entertainment/Getty Images
Is Prince Harry's Ex, Chelsy Davy, Going To The Royal Wedding? Here Are The Deets
Millions of people worldwide will be watching the royal wedding of Prince Harry and Meghan Markle Saturday, streamed live from the lawns of Windsor Castle and the heights of St. George's Chapel nave. Certainly the royal nuptials will be a star-studded affair, as the couple has many high-profile pals. Many anxious fans of the family are wondering who'll be in the attendance. Like, is Chelsy Davy going to the royal wedding? Sort of...
Prince Harry has a list of both confirmed and rumored exes, from English singer and songwriter Ellie Goulding and Love Island star Camilla Thurlow, to Strictly Come Dancing semi-finalist Mollie King, to English television presenter Caroline Flack, to models Cressida Bonas and Florence Brudenell-Bruce, according to The Sun. Not all of them have received formal invites to the wedding (read: just Goulding and Bonas) — and I can't blame him or Meghan for not wanting a bunch of ex flings in the house. But, apparently, Davy, who was Prince Harry's first love after they met through mutual friends at Stowe School in Buckinghamshire in 2004, is expected to be there, The Sun reported.
That said, while Davy has been invited to the wedding itself and the immediate post-wedding reception, according to Mirror, she reportedly wasn't invited to the more exclusive evening event. And she's supposedly feeling "snubbed" about the semi-invite, according to Vanity Fair. Though it's important to note that those rumors are based entirely on speculation or unnamed sources.
The exclusive evening soiree at Frogmore House will welcome 200 guests, including the Spice Girls, but no Davy, "a friend" of Davy's reportedly told Vanity Fair.
"Her nose is a bit out of joint but we've told her she's lucky to be going to the actual wedding," the source reportedly told the outlet. "She's still hoping she might be asked to attend the evening party, too."
Davy dated Harry on and off for seven years, and she returned to Africa to study while he focused on his army career and royal duties, The Sun reported. She ultimately came back to the U.K. to take a job at a law firm, and she was spotted accompanying Harry to a number of high-end events, including his brother's wedding to Kate Middleton.
Harry's family also appeared to approve of Davy, as Prince Charles was once seen greeting her with a kiss at one of Harry's polo matches in 2005. But the couple's relationship was ill-fated, and it ultimately came to an end, reportedly because Davy wanted commitment and struggled to make friends in the U.K., according to Business Insider. In 2016, she also told The Times that the media scrutiny made her feel uncomfortable. So the pair finally called it quits in 2011, though they were reported to have had a final fling in South Africa in 2015, according to Vanity Fair. Davy went on to open up her own ethical jewelry line, AYA, designed to capture the beauty of Africa, Business Insider reported. Harry went on to date and get engaged to Meghan Markle.
Davy reportedly offered to make a one-off piece as a wedding present for Markle but, perhaps to little surprise, "she was politely turned down," according to Vanity Fair. Though I think it's a little ridiculous to assume much from that rumor — painting Markle as the jealous or suspicious fiancée is steeped in sexist tropes about women, so let's just not.
The hour-long wedding ceremony will begin at 12:00 p.m. local time at St George's Chapel in Windsor, and the service, conducted by the Dean of Windsor, will end around 1 p.m. local time, when Prince Harry and Markle have taken their vows, officiated by The Archbishop of Canterbury, Justin Welby, according to The Telegraph. There's no telling who exactly will show face at the wedding, the reception, or any of the exclusive afterparty events until the day of, of course. But weddings never run perfectly smoothly do they?
There's bound to be awkward run-ins with former flames, awkward family ties or lack thereof, and someone will probably drink too much and maybe (hopefully) even break out cringe-worthy dance moves.