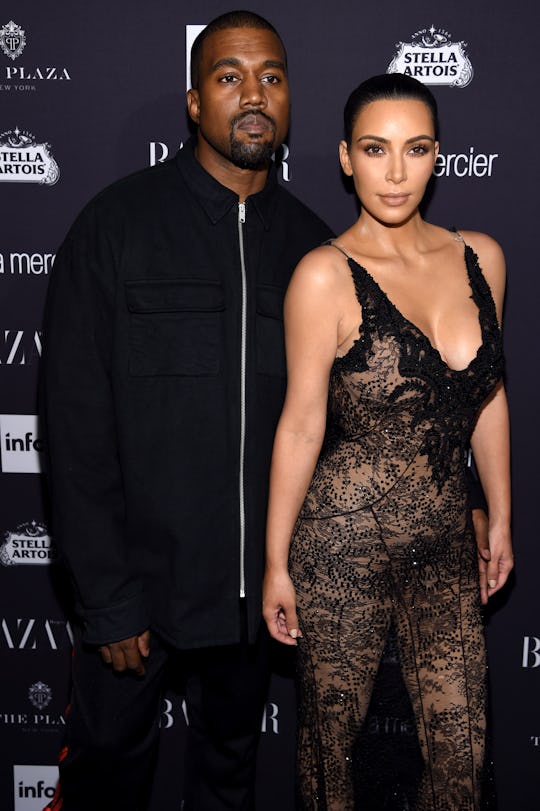 Dimitrios Kambouris/Getty Images Entertainment/Getty Images
Kimye's Baby Name Is Actually A Sweet Tribute To Kanye
It's only been a few days since Kim Kardashian announced the arrival of their third child, but now the Kardashian family has gifted the world with another revelation by announcing the name of their newborn daughter. Kardashian took to Twitter on Friday, Jan. 19 and tweeted that their baby's name is Chicago West. So what does this unique name mean, exactly? Is Chicago West named after someone? Turns out that it's actually a really sweet tribute to Kanye West.
Obviously, the first thing that comes to mind when you hear the word "Chicago" is the major city found in Illinois. It's also sometimes referred to as "The Windy City," which doesn't really seem like it would have anything to do with Kanye or the Kardashian family at first glance. However, if you dig a little deeper, you can easily see how it all connects. You see, while it's true that West was born in Atlanta, Georgia, he actually moved to Chicago fairly early in life when he was still a kid. It's where he grew up, which makes his daughter's name a very nice nod to the place that helped to create who West grew up to be. See, I told you it was sweet.
But just in case you're obsessed with knowing all things related to the Kardashian family, you may also be curious to find out if the family plans on giving baby Chicago a cute nickname. The answer to that is yes. Kardashian posted a follow-up tweet shortly after the original big announcement, making it all too clear what she intends to call her new little bundle of joy.
"North, Saint & Chi," she wrote. And if you're like me and had no idea how that was supposed to be pronounced, Khloé Kardashian came in to help clear things up for everyone:
Kardashian's unknown surrogate gave birth to Chicago at 12:47 a.m. PT on Monday, January 15, weighing in at 7 pounds, 6 ounces. Kardashian announced the news much like she did with the baby's name: on Twitter. Though her app went into more detail and provided fans with a statement regarding the birth:
Kanye and I are happy to announce the arrival of our healthy, beautiful baby girl. We are incredibly grateful to our surrogate who made our dreams come true with the greatest gift one could give and to our wonderful doctors and nurses for their special care. North and Saint are especially thrilled to welcome their baby sister.
As you can imagine, Twitter was set ablaze when the news broke, leaving many to wonder what Kardashian and West would choose to name their youngest child. This sparked a bunch of theories online, each one more creative than the next, but now we know the answer at long last (I say "at long last" as if it's been years of waiting rather than days). But if I'm being totally honest, I kinda love the name, and the fact that it includes a subtle nod to West makes it all the more perfect.
Now all that's left to be curious about is when fans will actually get to see a photo of Chicago. If North and Saint are any indication, this kid is going to be downright adorable, but knowing this family, they may make us wait a little while longer before showing their baby to the world. And you know what, that's totally their right. So in the meantime, all we can do is sit back, relax, and wait until it happens (which it will). Of that I have no doubt.
Check out Romper's new video series, Romper's Doula Diaries:
Watch full episodes of Romper's Doula Diaries on Facebook Watch.