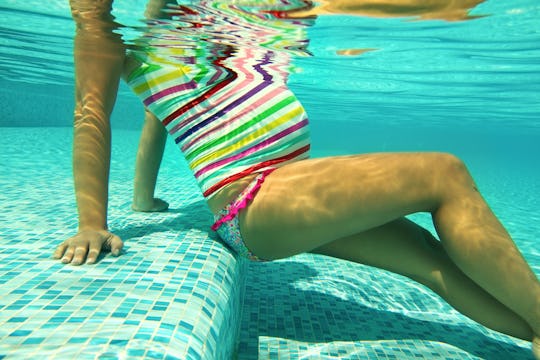 Andriy Bezuglov/Fotolia
Is Chlorine Safe When You're Pregnant? Yes, But There Are Other Ways To Enjoy Water
As temperatures soar and your desire to cool off become paramount, you'll do about anything to swim in a pool. This goes double if you're expecting. But before you dive in, it's perfectly valid to wonder is chlorine safe when you're pregnant? The answer is yes, pools containing chlorine are perfectly safe, as long as you don't spend all day in soaking up the chemicals that keep pools clean. Dr. David M. Priver told The Bump that swimming is one of the "healthiest activities" an expectant mom can engage in. There's also the added benefit of feeling weightless in water, which feels especially amazing if you're in your third-trimester and ready to pop.
According to What To Expect, swimming can also help relieve aches and pains that your changing body is experiencing. Additionally, when pregnant, your sweat glands are in overdrive, noted What To Expect, making the community pool seem like heaven on earth. And then there's the added bonus of pool exercise, like water aerobics, swimming laps, or pretending you're a kid again and having some fun floating with a kick board, and toning your gams while you're at it.
But for the extra cautious, and extra creative mom-to-be, there are alternatives to the chlorinated pool that can keep you cool and let you enjoy the water.