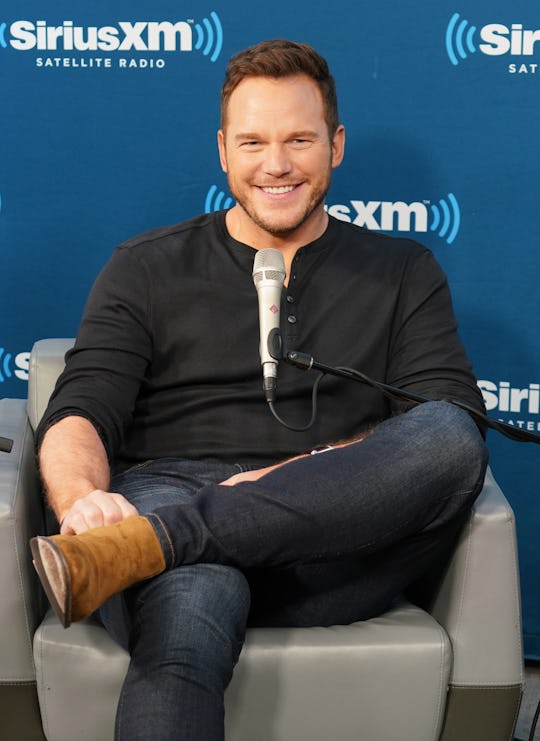 Cindy Ord/Getty Images Entertainment/Getty Images
Is Chris Pratt Dating Anyone? The Actor Is Recently Single
The world was devastated when actors Chris Pratt and Anna Faris broke up in August 2017. Theirs seemed like a Hollywood romance that would defy the odds, but alas — it was not to be. Since then, people have been wondering whether Chris Pratt is dating anyone, especially since Faris seems to have moved on with cinematographer Michael Barrett.
Pratt and Faris got divorced after eight years of marriage. They also share a son together — Jack, who was born in 2012, according to The Cut. It's not always easy to get back in the dating game after a long relationship, and one that is actually a marriage — and that also has a child involved — can be even more tricky to bounce back from. Faris didn't appear to have much trouble putting herself out there to try to find love again, but Pratt seems to be moving a little more slowly finding something serious again after his breakup. Nothing wrong with that, of course.
First of all, for the record, Pratt is not seeing actress Jennifer Lawrence. After he and Faris announced their separation, rumors flew that she was the real reason for the breakup, but both Lawrence and Faris shot down the speculation quickly. Faris even wrote in her book Unqualified, according to Hello! magazine:
Jennifer and I really are friendly, and she was apologetic even though she didn't need to be, because she hadn't done anything wrong.
In February, Pratt was seen with a "mystery blonde" in Los Angeles, according to TMZ. They reportedly shared a "friendly embrace," but it was unclear whether the two were romantically linked or just friends. That didn't stop people from speculating that Pratt was back in the dating saddle, of course.
And before that, Pratt and actress Olivia Munn were spotted having dinner together in January, setting off rumors that the two were actually dating, according to WHIO-TV 7. But Munn clarified in an Instagram story that those rumors were false, according to Just Jared. She reportedly posted several messages to prove the point, which read: "1. Not every woman is scorned and upset after a breakup. 2. Not every woman is 'furious' at another woman for dating her ex. 3. So even if I was dating [Chris], some tabloids got me and [Anna] all wrong."
Munn also shared a screenshot of a conversation via text between her and Faris, where she told Faris that she and Pratt were not dating, Just Jared reported. Part of what Munn wrote said, "I wanted to reach out to you personally to tell you the story about me and Chris dating has 0% truth." You really can't get more straightforward than that.
So now that we know who Pratt is definitely not dating, what do we know about his current dating life? From what we know, Pratt isn't dating or involved in a serious relationship at the moment — at least, not one that he's made public.
Pratt does seem to be "mingling," as The Cut put it, and doesn't seem ready to be "tied down" at the moment. He might be dating around, if his appearance with the "mystery blonde" is anything to go by, but nothing official about his bachelor status or lack-thereof has been confirmed.
When Pratt and Faris announced their separation, Pratt wrote on Facebook:
Anna and I are sad to announce we are legally separating. We tried hard for a long time, and we're really disappointed. Our son has two parents who love him very much and for his sake we want to keep this situation as private as possible moving forward. We still have love for each other, will always cherish our time together and continue to have the deepest respect for one another.
So it sounds like the separation was a little tough on Pratt, and if he takes a long time to seriously date someone again, I don't blame him. He also mentioned that he and Faris are trying to keep the whole thing "as private as possible," and for him, meeting someone new and starting a relationship may even be part of that.
On the bright side, if Pratt isn't dating anyone seriously right now, that means you've got a chance if you're a Pratt fan. You've just got to casually bump into him on a movie set or at the MTV Movie Awards on Monday. No problem at all.