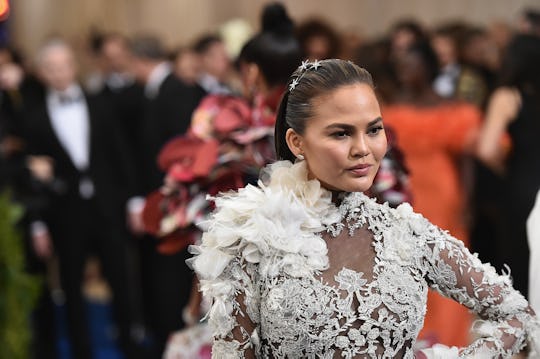 Mike Coppola/Getty Images Entertainment/Getty Images
Here's Why Chrissy Teigen *Probably* Won't Be At The 2018 Met Gala
Even though the Met Gala is typically all about the fashion, it's not really a secret that one of the best parts about the event is seeing all your favorite celebrities dressed to the nines and walking up those iconic stairs. And with 2018 being such a hectic year, it makes sense that not all the usual faces would be at the event. So, is Chrissy Teigen attending the 2018 Met Gala? Well, the model, mother, and cookbook author is pretty far along in her pregnancy with baby number two, and signs point to a no-show.
Usually, before Teigen attends an event, she'll share photos and videos of herself getting ready on Snapchat, Instagram, or Twitter. But this year, Teigen has yet to post anything of herself getting ready, leading fans to assume that she isn't going. In fact, Teigen tweeted out on Monday morning that she was seriously so pregnant. "I'm so big that there are people in cars outside my house on hospital watch," she wrote to her account.
Additionally, Teigen also spent some time on Monday telling her Twitter followers how much she was enjoying a new game, Donkey Kong Tropical Freeze. And while, it's true, Teigen may be able to play a video game while getting ready for the Met Gala, since it appears as though she's at her home in California, and the event takes place in New York City, it would be truly astounding if Teigen were to show up at the Met Gala. I guess the head-dresses and asymmetric hems will have to wait until next year for the beloved mom.
But then again, Teigen has attended plenty of events while pregnant In fact, she famously was sewn into her 2016 Oscar's dress in February 2016, less than two months before she gave birth to her first daughter, Luna, as Us Weekly reported. But this year, it's a little different. Teigen is even closer to her due date now than she was in 2016. As she revealed on The Ellen DeGeneres Show back in February 2018, she's due really soon. "I'm having a baby boy in the spring," she told DeGeneres, per Us Weekly. "I'll tell you — it's June!"
So, considering the fact that the expectant mother is mere weeks away from giving birth, it's totally understandable that she would be staying in for the night. While Teigen and her husband, John Legend, are regulars at the annual Met Gala, it would honestly be big news if Teigen ended up attending the 2018 festivities.
However, there will be so many people there, that Teigen's attendance might not really be noticed. According to USA Today, the 2017 Met Gala guest list consisted of about 500 people, and that's not an exaggeration. Seriously, there will be so many people at the event Monday night, that the party will definitely still be bumping whether or not Teigen attends.
On the other hand, Teigen definitely knows how to have a good time. Whether she's entertaining friends at home or telling off trolls on the internet, Teigen owns everything she does. So if she decides to go to the 2018 Met Gala, she'll undoubtedly have a good time (and look flawless doing it). But, if she'd rather stay home, eat some strawberry shortcake, and just chill with little Luna, then that's sure to be an incredible night as well.
For now, though, it seems as if she'll probably stay in on this Monday night. And who could blame her? A night at home with Luna and Legend sounds seriously perfect, designer dresses be damned.
Check out Romper's new video series, Bearing The Motherload, where disagreeing parents from different sides of an issue sit down with a mediator and talk about how to support (and not judge) each other's parenting perspectives. New episodes air Mondays on Facebook.