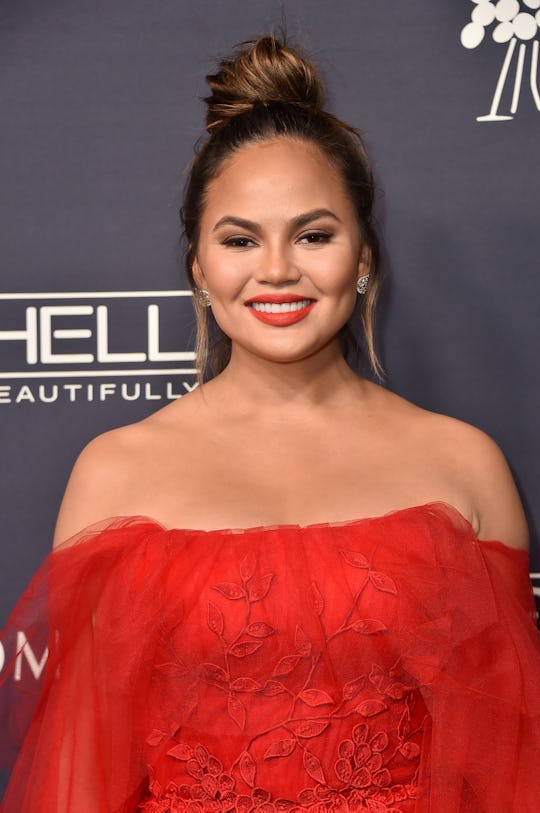 Frazer Harrison/Getty Images Entertainment/Getty Images
Here's What We Know About The Sex Of Chrissy Teigen & John Legend's 2nd Baby
Someone's cravings are about to get a whole lot more intense! With the news that one certain model and top-notch Twitter user is expecting her second child, fans can't help but wonder: is Chrissy Teigen having a boy or a girl? Well, Teigen has yet to confirm the sex of her next little bundle of joy, but previous interviews about expanding their family indicate that she and husband John Legend have been wanting to switch things up this time around.
But, that is still unconfirmed at the moment. For now, all that's known is that the 31-year-old took to Instagram on Tuesday afternoon to share her exciting news. In an adorable video, Teigen's 19-month-old daughter, Luna Legend, can be seen playing around next to her mom on a couch. And when Teigen asks, "Luna, what's in here?" pointing to her stomach, the baby girl knows exactly what to say. "Baby!" she replies, to which Teigen giggles at. Of course, being the reigning queen of jokes and the internet, it shouldn't really surprise anyone that Teigen's only caption on the video was a witty, "it's john's!"
Back in October, Teigen revealed to InStyle that she and Legend had three viable embryos for IVF, and that they would be trying with the third soon.
Well, it seems as though that third embryo has stuck! And what's more, it seems as though the little baby Luna was referring to might just be a little boy. In January, Teigen told Entertainment Tonight that the next time she underwent IVF, she would try for something different. "Oh my god, a little boy is next for sure," she told the outlet.
And while Teigen has yet to actually confirm the sex of this next baby herself, back in January, Teigen took to Twitter to explain that if she and Legend were trying to get pregnant again, it would probably be with a boy because of the embryo they had.
So, it's pretty safe to assume that the couple is expecting a little boy this time around, although, of course, nothing can be confirmed just yet. In the same InStyle interview, Teigen revealed that she had battled postpartum depression. "It wasn't just a mental thing of, you know, 'I'm sad,' I actually couldn't move," she told the publication in October. "I have really good days and really bad days," she went on, "and I don't tend to talk about the really bad days. But I would hate for people to think those days didn't exist."
Likely, Teigen will share more about her current pregnancy as time goes on. For now, though, the model and businesswomen seems happy just to be able to finally tell the world her happy news. In a Snapchat she uploaded Tuesday afternoon (not long after her Instagram announcement), Teigen wrote that she was "excited not to have to hide this anymore," referring to her growing pregnancy bump.
In the past, Teigen has been super forthcoming about her own fertility struggles. As far back as 2015, Teigen started opening up about how much she wanted kids, but how hard it had been for her and Legend. Speaking to the cohosts of FABLife, Teigen revealed "I would say, honestly, [that] John and I were having trouble. We would have had kids five, six years ago if it had happened, but my gosh, it's been a process." And while it's really no one's business whether or not a couple chooses to have children, or what sex those children are, fans really seem to want the best for Teigen.
Because while she may be married to a legend, Teigen is a legend in her own right. She is fierce, unapologetic, passionate, talented, and generous. And now, she's getting to expand her family, and that's even more amazing.
Check out Romper's new video series, Romper's Doula Diaries:
Watch full episodes of Romper's Doula Diaries on Facebook Watch.