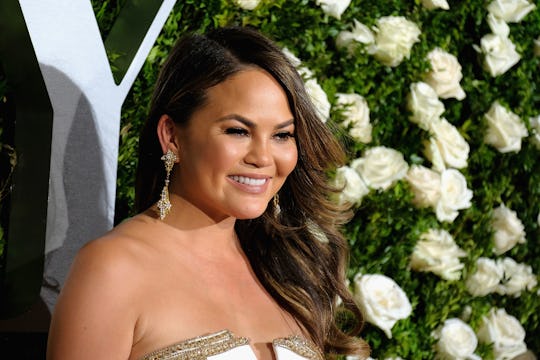 Jemal Countess/Getty Images Entertainment/Getty Images
Chrissy Teigen & John Legend Are Going To Try For Baby No. 2, & OMG
It seems like little Luna Simone Stephens was born only yesterday, but it looks like she might become a big sister soon. Is Chrissy Teigen trying to have another baby? The model got candid in a recent interview with In Style, so get ready to hear all the details. Teigen said that she and Legend will attempt to conceive one more child through IVF, and her last frozen embryo will be implanted "in the coming months." Teigan has long been open about her fertility struggles; on a 2015 episode of FABLife she shared that she "would have had kids five, six years ago" if she could have, according to Us Weekly.
When she and Legend started going through IVF, Teigen told In Style, they began with 20 embryos, but in the end, only three were viable. She says she wishes she'd extracted more eggs in the beginning. "The first little girl didn't work, and then the second is Luna," she explained. Soon, the couple will take a chance on the final one. This would presumably be a son; when Teigen was pregnant with Luna in 2016, she told People, "I picked the girl from her little embryo. I picked her and was like, 'Let's put in the girl.'" She also added that "a boy will come along" later.
Since delivering Luna Teigen has been known for her hilarious responses to mom-shamers on Instagram and to Twitter trolls. Teigen added a photo to Instagram of her and John Legend going out to dinner 10 days after Luna's birth, and one commenter asked "How's baby Luna?," according to InStyle, and Teigen responded "I dunno I can't find her." In another instance, people were commenting on a photo of the family, in which baby Luna wasn't wearing any socks, according to Cosmopolitan.
One person said "They both have jackets on and they can't even put a pair of socks on the poor baby." Teigen tweeted an image of the comments, saying, "Imagine being this miserable. We are fine, thanks."
Teigen's responses to the shaming are incredible, but kind of sad in light of an essay she wrote for Glamour on the postpartum depression she suffered from after Luna's birth. Like many women, Teigen didn't understand how she could feel terrible after having a child despite struggles with infertility, and with a husband as supportive as Legend. She wrote at the start of the essay:
During pregnancy, what I thought were casual comments about IVF turned into headlines about me choosing the sex of my daughter. And I can already envision what will be said about me after this admission. But it's such a major part of my life and so, so many other women's lives. It would feel wrong to write anything else. So here goes.
But it seems that the struggles she's gone through were worth it, because Teigen is thrilled to have Luna, and excited to add another kid to the mix. In January, when Luna was just 9 months old, Teigen was already gushing about wanting a baby boy to Entertainment Tonight's Deidre Behar. And considering how effortlessly she handled all the mom-shaming the first time around, it'll only be easier the second time around, once she's an old pro. And for every hater, she's got at least a dozen people praising her.
With Teigen's trademark frankness, I wouldn't be surprised if she live-tweets her implantation, and honestly, I'm for it. Parenting, from conception on, isn't always a bed of roses, and when she normalizes the hard parts, it helps others going through tough times realize that they're not alone. Good luck to the whole family, and may Teigen continue to show the world just how bad*ss a mom can be.