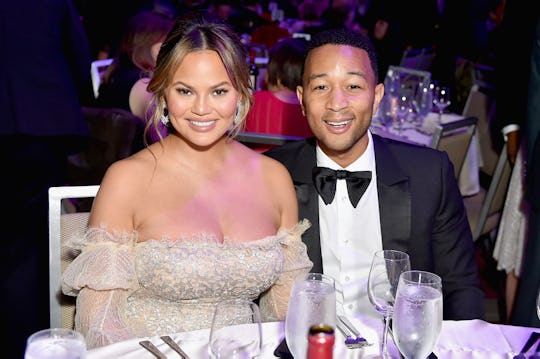 Mike Coppola/Getty Images Entertainment/Getty Images
Chrissy Teigen May Prove To Be The Best Part About Watching 'Jesus Christ Superstar Live!'
If you love musicals then get ready for the latest live TV production coming your way this Easter Sunday. NBC is bringing viewers Jesus Christ Superstar Live! starring Grammy-winner John Legend as Jesus himself. Although Legend has a ton of fans, his number one supporter is probably his wife, Chrissy Teigen. However, since I'm not one to assume, I think it's fair to ask: is Teigen watching Jesus Christ Superstar Live!?
Although she hasn't mention it too much on her social media (she has a lot of other things to discuss), it's very likely Teigen will either be on set for the live taping of the show or, since she's pregnant, she could be at home watching from the couch with their daughter, Luna. Either way, fans can probably expect Teigen to be hilariously live-tweeting the whole event as she's apt to do. That in and of itself should be enough of a reason to make you want to watch Jesus Christ Superstar Live! along with Teigen so you can check Twitter and see her commentary as it comes in.
Teigen is very well known for being outspoken on all platforms of social media, but particularly on Twitter. She's also known for poking fun at her husband and his work on more than one occasion. For example, last year she took to the social media site to confirm that she did, in fact, refuse to let Legend break up with her, after he revealed the story in a Guardian article.
The couple first met back in 2007 when Teigen was cast in the music video for Legend's single, "Stereo." The two immediately hit it off and despite Legend's initial attempt to break things off, the two have been together ever since, and wed in 2013. Their daughter was then born in April 2016 and their second child, a boy, is due in June.
Teigen and Legend have become one of the most beloved celebrity couples. Besides Teigen's unfiltered tweets, their cute photos of their daughter as well as Teigen's continued appearances in Legend's music videos make them serious couple goals. They're also incredibly supportive of each other and with celeb couples often breaking our hearts when they split, it's great to see Teigen and Legend still going strong. However, Teigen did get a little territorial when Entertainment Tonight shared a pic from Jesus Christ Superstar Live! of Legend, as Jesus, sharing a piece of a bread with a woman.
"Ummmmm who's this chick he's giving bread to?" she jokingly asked. The tweet, of course, went viral, garnering over 25K retweets and 204K likes. Teigen then followed that up with a a clipped photo from the same pic, with a man looking over Legend's shoulder. "When u aren't getting any bread from jesus [sic]," she wrote. Of course that tweet also garnered a lot of attention.
Although she hasn't said it explicitly, Teigen is obviously just as excited for Jesus Christ Superstar Live! as the rest of us. Along with Legend, the musical production will also star Grammy nominee Sara Bareilles as Mary Magdalene, Alice Cooper as King Herod, and Tony winner Brandon Victor Dixon as Judas. Also in the cast are Tony nominee Ben Daniels as Pontius Pilate, Tony nominee Norm Lewis as Caiaphas, Broadway veteran Jason Tam as Peter, M. Butterfly star Jin Has as Annas, and Swedish rock star Erik Gronwall as Simon.
Original composer Andrew Lloyd Webber and writer Tim Rice have also returned as executive producers for the live production, so you know the musical will stay pretty true to the original. So whether you've never seen Jesus Christ Superstar before or have seen it a number of times, you should definitely watch the live show when it airs on Sunday, April 1 at 8 p.m. EST on NBC.
Check out Romper's new video series, Romper's Doula Diaries:
Watch full episodes of Romper's Doula Diaries on Facebook Watch.