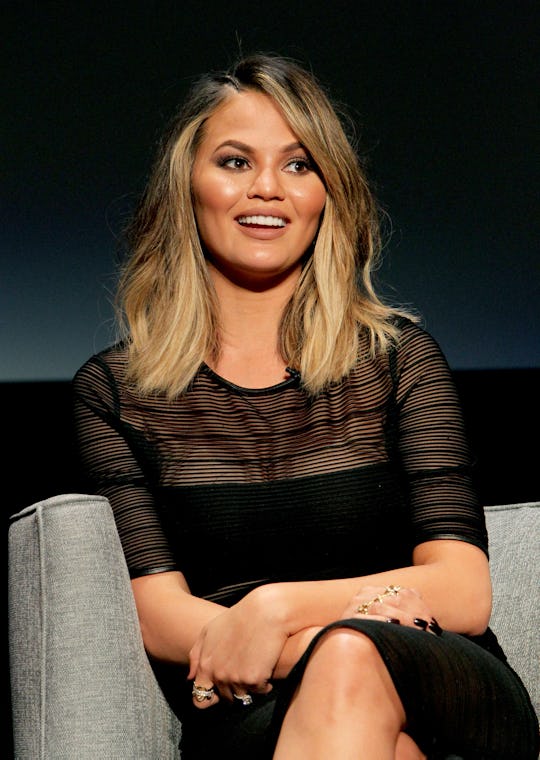 Rachel Murray/Getty Images Entertainment/Getty Images
Chrissy Teigen's Son's Name Is Totally Unique To Him
Chrissy Teigen and John Legend are the epitome of cool parents. Anyone would be lucky to call the model turned cookbook writer turned TV host and her husband, a super talented musician, "mom and dad." And their son and daughter get to do just that. After announcing the name of their son on Instagram on Sunday, you know some people are wondering who if Teigen's son is named after someone, because the super cool parents have to have chosen the name for a reason.
Miles Theodore Stevens came into this world on Wednesday, according to E! News, but Teigen didn't announce his name or share a photo of fans with him at the time. That is, until Sunday afternoon, when she took to Instagram to share the news — they named their son Miles Theodore Stephens. That is when the big news really set in.
Miles has been blessed from birth by being able to call Teigen and Legend his parents. But whether or not Teigen and Legend blessed their child with the name "Miles Theodore" because they were naming him after someone else is entirely unclear. They could have picked the name Miles simply because they loved the name (you have to admit, it's a pretty cute name). But on the other hand, they could have named him after a family member or as a tribute to someone else. And until Teigen and Legend come out and say who their son is named after, everything else is just speculation.
If you wanted to speculate and say that Miles Theodore was named after jazz legend Miles Davis, it might be a pretty good guess. Legend is a super talented singer and song writer whose music has some jazz influences, so it wouldn't be too surprising if Teigen and Legend were influenced to name their son because of jazz.
In 2016, Legend told Fader that he loved Davis for so many reasons and that Davis' album, Kind of Blue, influenced both his music and who he was in college. Legend told the magazine:
To our generation, Miles just represents cool. You look at the pictures and all the photography made him look like an icon who had his own unique thing and was so cool and comfortable in that thing. He was a trendsetter, and the images you see around him suggest that — the fashion and the quality of the photography and the music together project a classic sense of cool.
But Miles Davis doesn't have to be the only namesake for Teigen and Legend's baby — there are plenty of other famous people named Miles that exist out there, according to Ranker. There is actor, Miles Teller and football player, Miles Austin — Teigen and Legend could have very well been influenced by either of them (although that might be a stretch). It's important to note, too, that not every name has to be significant. Some baby names become so popular purely because parents like the way the name sounds. The name Miles could have been this for Teigen and Legend.
But based on how Legend and Teigen decided on the name for their first child, 2-year-old daughter, Luna, it's likely that Miles has just as much meaning behind it. During an interview on The Ellen Show in February, Teigen revealed to host Ellen Degeneres how they decided on Luna's name. Teigen said, according to Us Weekly:
There was a blood moon happening. It was a really beautiful night. Really big, red moon, and just gorgeous. I have this love for space and I think about space camp all the time when I was a youngster. And so I thought Luna was just perfect and she's kind of the perfect Luna.
During the same interview, Teigen revealed that picking out the perfect name for Miles was tough — so tough that she was afraid her son wouldn't have a middle name. But because they settled on "Miles Theodore," you have to wonder if the name Theodore has any significance or is named after anyone, too.
Whatever the case may be, Miles is such a sweet and perfect name for the little boy. Hopefully Teigen reveals how she and Legend came up with his name some time soon to solve the curious minds of fans wondering how they picked such a cute name for their just-as-cute son.