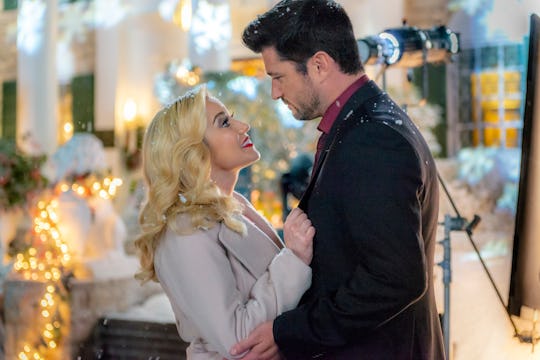 Hallmark
Hallmark's 'Christmas At Graceland' Is As Original As It Is Heartwarming
An executive who learns to appreciate music again with the help of her ex-boyfriend at Christmas time sounds like the plot of a Nicholas Sparks novel. What it is is the synopsis of Christmas at Graceland, an upcoming Hallmark Channel movie. But this comparison does beg the question, is Christmas at Graceland based on a book?
That's going to be a no from me, dawg. As wonderfully cheesy as it sounds, neither Sparks nor any other prominent author penned a book about a woman who reunites with an old flame, who just happens to be a music promoter reminiscing on their old performing days together. Instead, like most Hallmark flicks, it comes from the minds of a couple of writers who churn out this content like butter.
Seriously. Gregg Rossen and Brian Sawyer, who are credited with writing the script for Christmas at Greenland, are old pros at the holiday TV movie game. The pair have worked together on titles such as Winter's Dream, Rocky Mountain Christmas, and Christmas Connection... and those are just the ones that have been released in the last year. The formulaic nature of these feel-good films seems to make it pretty easy to crank out a few every year.
This might seem like a lot, but considering the number of movies involved in the Hallmark Channel Countdown to Christmas lineup, it's clearly necessary. Beginning Oct. 27 (!), The network airs a new holiday movie every Saturday and Sunday through Dec. 29, with a few extra thrown in on Thanksgiving Eve, Thanksgiving, and Christmas. This comes out to a total of 22 brand new titles over a two-month period. So if you're looking for fresh content in this genre, you know where to look.
Christmas at Graceland stars country singer Kellie Pickler as Laurel, who heads to Elvis' hometown during the holiday season for a business transaction, only to reunite with an ex who reminds her of her love of singing. Here's the full description:
Laurel, a Chicago-based business executive, travels to Memphis to close a deal to take-over the city's oldest family-owned bank. While she's in town, she bumps into her old flame Clay, a local music promoter with loftier aspirations. Though Laurel tries to stay focused on work, Clay pulls her back to the days when they were a performing duo on the brink of stardom. Laurel finds herself drawn to the City of Blues—and Clay—as she dreams of making music once again.
Pickler, a former American Idol contestant and Dancing With the Stars champion, stars alongside Wes Brown (True Blood, Hart of Dixie) as Clay. Newcomer Claire Elizabeth Green Plays her daughter, Emma, who accompanies her to Graceland.
Even though it's not based on a book, the film is clearly a love letter to the city in its own right. In fact, a special screening on Christmas at Graceland will take place at Elvis Presley's Memphis Soundstage auditorium, and it is complimentary for those visiting a Graceland attraction. For the rest of us, we'll watch the flick from the cozy comfort of our own homes to really get in the holiday spirit.