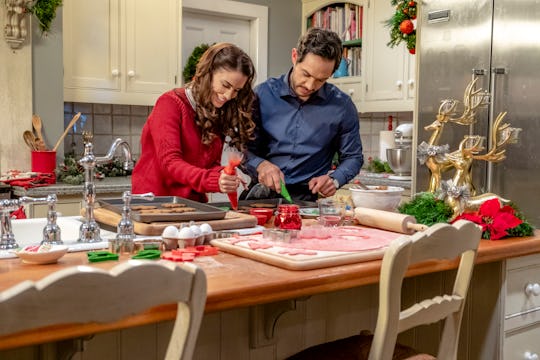 ©2018 Crown Media United States LLC/Photographer: Robert Clark
If You're Not Holiday-Ready, 'Christmas At Pemberley Manor' Will Get You There
It's almost officially November which is a little too close to December and that means one thing: Christmas movies. I know — don't blame the messenger — but it's true. You can put off shopping, but you can't deny the satisfaction you get when the Hallmark movies come on. The official countdown begins pretty darn soon with a Jane Austen-esque film to kick things off. With that said, is Christmas At Pemberley Manor based on Pride and Prejudice?
According the official IMDB description, the Hallmark movie slated for an October 27 air date is "loosely based on Pride and Prejudice." In all truth, there's a ton of different P&P-inspired canon via books and movies out there, so don't let this one get lost in the shuffle. Out of the 36 brand new, original Hallmark movies scheduled, Christmas at Pemberley Manor is the perfect way to ease into the holiday season. If you're unsure about whether to emotionally invest, this one stars a New York event planner, Elizabeth Bennet (Jessica Lowndes), who travels to a small town to organize the annual holiday festivities. She meets Pemberley Manor owner, Mr. William Darcy (Michael Rady), who's trying to sell the property. Obviously, the two don't exactly get along at first.
Elizabeth, who's a determined type of gal, somehow gets Mr. Darcy (a bah-humbug type) to have the festival anyway. You know, for the sake of the town. But also because they'll definitely fall for each other. They work together to make this thing a success and you guessed it — they fall in love. That's not a spoiler when Hallmark's movie aesthetic is "falling in love." More than that, it's "unlikely pairs falling in love." All should be good and happily ever after, right? Nope.
The festival goes awry and shuts down, the two separate and move on with their lives, and Mr. Darcy keeps with his plans to sell the estate. If you're waiting for the magic, it comes when Elizabeth makes a Christmas Eve wish (as one does) for a miracle. I can't say what happens from there but knowing Hallmark's track record, I feel confident stating the lovebirds will find their way back to each other and the festival is somehow revived. I also can't tell you if there's an introduction of the P&P equivalent of Mr. Collins, or if Elizabeth catches the eye of any other while visiting the quaint town. It's only inspired by the world of Pride, not an exact thread.
If Lowndes looks familiar, you might've seen the Canadian-born actress and singer on the CW 90210 remake, Major Crimes, Greek, or Hawaii Five-O (among others). As for Rady, he's been on hit shows like Lucifer, Timeless, UnREAL, Jane the Virgin, The Mentalist, and more. Oh, and let me never forget to mention he played Kostos in both Sisterhood of the Traveling Pants movies.
There appears to be a book with this very title by romance author and self-proclaimed Jane Austen-enthusiast, Regina Jeffers, but it's hard to tell if the movie is an adaptation of that book or an original with coincidental ties. Regardless, Christmas at Pemberley Manor (the movie) could be a great way to introduce non-readers into Jane Austen's world, or help reluctant readers check out other Austen-inspired work. And in the true Hallmark spirit, you'll probably feel a little more joyous once the movie ends. That's just how they roll.
Of all the Hallmark romances ready to premiere, it looks like this one might inspire Austen fans to at least grab some popcorn and ~try~ to prepare for the fact that the holidays are literally around the corner.