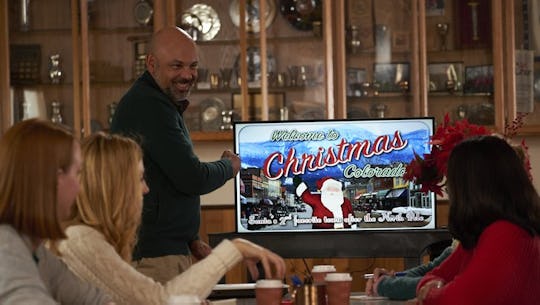 Hallmark/Crowne Press
Sorry, You Can't Visit The Lovely Setting Of Hallmark's 'Welcome To Christmas'
I love when holiday movies take a real place in the world and make it the backdrop. It somehow makes the story more believable, plus you can visit real locations and have the best selfies. But sometimes, the cities set in make believe aren't real at all. If the movie does a good job, you won't know the difference. You also don't want to get your hopes up about visiting the location if it doesn't exists at all. And with Hallmark's much-loved holiday movie, Welcome to Christmas, you'll soon wonder if Christmas, Colorado is a real place.
It sounds lovely enough — a town named Christmas in a setting that also reminds you of Christmas — but no, Christmas, Colorado sadly does not exist, despite it being a focal point of the Hallmark original holiday movie, Welcome to Christmas, which premiered in December 2018.
There are five cities in the United States named Christmas, and alternate places named Christmas City, Christmas Cove, Christmas Valley and Christmasville, according to The Accuracy Project. The states with a Christmas-named town are Arizona, Florida, Kentucky, Michigan, and Mississippi. The alternates, as mentioned, are located in Utah, Maine, Oregon, and Tennessee, respectively. So if you're looking to travel to a Christmas-themed city (but not necessarily named Christmas), there are actually quite a few. Whether it's Santa Claus, Georgia, or Rudolph, Ohio, the United States has a lot to choose from when you're in the mood for a festive road trip.
Even though Christmas, Colorado doesn't actually exist, it does in Welcome the Christmas when resort developer Madison Lane (played by Jennifer Finnigan), is given the job of finding a special place for the next big project — a new ski resort. While Mountain Park is her first choice, her boss wants her to do something else first: travel to Christmas, Colorado to get all the details of the incentive package they're offering before any big decisions are made. Everything seems OK until she hits the town's welcome sign on her way to meet the mayor. Oops. Fortunately, she has a friend (and maybe, eventually more) in Town Sheriff, Gage McBride (played by Eric Mabius) who offers her a ride to the meeting while her car is worked on.
Everything should go more smoothly, right? Ha, that would be too easy. When she arrives, the townspeople have gathered to make their plea for Madison to choose Christmas. And, because she's stranded, she has little-to-no choice other than to listen to their pitches. Sprinkle in a little Christmas, Colorado magic and a dash of Sheriff-inspired chemistry and you've got a Countdown to Christmas 2018winner — even if the town isn't even real.
Speaking of Hallmark's Countdown to Christmas lineup, 2019 marks the networks 10th anniversary with the festive movie tradition. This year, Hallmark's Christmas movie lineup is full of flicks that will make you feel warm and fuzzy, such as A Cheerful Christmas, which airs on Sunday, Dec. 15 at 8 p.m. EST, or It's Beginning To Look A Lot Like Christmas, which you can watch Sunday, Dec. 22, also at 8 p.m. EST.
In 2019, Welcome To Christmas will first air on Tuesday, Dec. 10 at 12:06 a.m. EST. Seeing as that's not the most convenient hour and Tuesday being a school night and all, if you're able to record on your, this might be the best time to do so. However, the 90-minute movie is airing again on Sunday, Dec. 15, at 10 a.m. EST — perfect timing for you to get bundled on the sofa and enjoy a peppermint latte.
And if you're feeling inspired to visit all the towns named Christmas after watching the festive movie — though it won't be in Colorado — you can take a trip to one of the many towns named Christmas. For instance, if you're looking for hot chocolate, Snowflake, Arizona, serves up to 1,000 cups of the stuff after annual holiday parade. If you want to get real into the Christmas spirit, there's always North Pole, Alaska where you'll see 2.2 million pounds of ice turned into beautiful winter wonderland sculptures. I've heard that's where Santa lives, but don't quote me on that. No matter where you go, or don't go, Welcome to Christmas puts the Christmas in, well, Christmas.
This article was originally published on