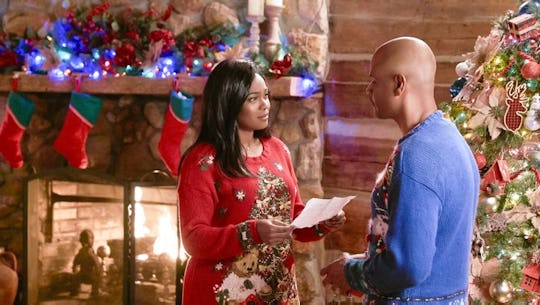 Hallmark
Here's Everything You Need To Know About 'Christmas Everlasting' Before It Airs
It's always a great aside when you know a movie is based on a book or real life events. It connects you to the themes and meanings a little more deeply and transforms fictional characters into visceral beings you can better relate to. With Hallmark's Christmas movies schedule in full swing to prepare for the holiday season and get you in the festive mood, you may be wondering if Christmas Everlasting is based on a true story.
The book on which the movie is based, The Second Sister, is a bestselling novel by Marie Bostwick, but it's not based on true events, according to an interview with USA Today. The movie is set to air Thanksgiving weekend with stars Patti LaBelle, Tatyana Ali, Dennis Haysbert, and Dondré T. Whitfield. In the film (and book), lawyer Lucy Toomey (Ali) goes to her hometown of Door County, Wisconsin, after her beloved sister with special needs passes. It just so happens to be Christmas so prepare for the magic. Alice's will has a clause that stipulates Lucy must stay in town through the holidays — 30 days or more, to be exact — in order for her to inherit her sister's estate. Lucy's been carrying around a lot of guilt over an accident during their teen years which left Alice with cognitive difficulties — which was exactly what Alice kept in mind when making such an ask in her will. She wanted her dear sister to let go of the guilt and to see that her life was pretty great despite anything that had happened.
So, in order to gain control of Alice's estate, Lucy reluctantly stays, celebrating the holidays with Uncle Barney (Haysbert) and meeting those who knew and loved Alice. The next step obviously has to be a love interest — because no good holiday movie goes without one. In this case, it's Lucy's high school honey and Alice's attorney, Peter (Whitfield). When good, ol' Pete's mom (It's Queen Patti!) puts on a Christmas celebration, Peter reveals something about Alice's past that gives Lucy some things to think about through holidays. Bostwick said the movie's focus is on "the love and romance between Lucy and Peter and the idea of coming home." She continued, "A lot of people are stuck in their past, and they run from it as fast as they can. Sometimes the things they're running from they're either remembering wrong, or they're making too much of it."
In Hallmark's Countdown to Christmas lineup, this is just one of many chances to get your holiday on, which Hallmark is unapologetically known for. It doesn't matter what you're in the mood for — there's a movie for every emotion you're feeling with all-star casts to boot. Ali recently opened up to Access Hollywood about the film, revealing you can expect some hot chocolate drinking, ugly holiday sweaters, and definitely mistletoe. Sounds like this movie — even though it's not based on true events — checks all the marks to bring on all the Christmas feels.
If you're in need of a feel-good movie for the weekend, leave it to Hallmark to get you through. I mean, if Ms. Patti LaBelle puts her seal of approval on it, it has to be good. And while you're at it, grab the book the movie's based on, too. You'll have even more appreciation of those holiday sweaters and missed opportunities.
Christmas Everlasting premieres Saturday, Nov. 24 at 9 p.m. ET on the Hallmark Channel.
Season 2 of Doula Diaries shares the stories of fearless doulas helping their clients take control of their births and make tough choices that feel right to them. Watch the first episode of the new season Monday, November 26th.