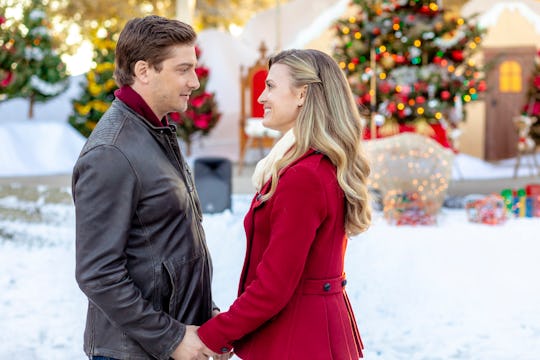 2018 Crown Media United States LLC/Photographer: Shane Mahood
Holiday Magic Is In The Air With This Hallmark Movie
Sleigh bells may not be ringing just yet, but that doesn't mean you can't curl up in a flannel onesie and watch a good holiday film. Forget early shopping and stuffy parties because Hallmark has your new holiday plans taken care of with Countdown to Christmas. If you've missed the first of the original movie bunch, it's not too late to catch Christmas In Love, which airs Nov. 11. Sounds great, but is Christmas In Love based on a true story?
Unlike some of Hallmark's other creations, Christmas In Love is not based on a true story, per se. Much like a good chunk of Hallmark's original Christmas movies, this one follows the general feel-good aesthetic with a dash of holiday magic, a handful of hope, and a pinch of love. Honestly, isn't that what most holiday rom-coms aspire for, true or not? Christmas In Love is about wannabe crafter, Ellie Hartman (Brooke D'Orsay) who works at her small town's bakery where she makes — get this — Christmas Kringles. I have no idea what they are, but they're apparently world famous (and because they're made in a bakery, it must be a confectionary so I'm all in).
But (because there's always a but), when fancy-pants CEO, Nick Carlingson (Daniel Lissing) strolls through, he has major plans for the bakery which includes laying off employees and using technology to do their jobs instead. Uh, a little too modern and industrial so no thanks, Nick. And, because Ellie knows it's the employees who make the bakery what it is, she shows him how to make the Kringles where he spends more time with the townsfolk and eventually his heart melts like butter.
If you think you know where the story's going, you're probably right. Ellie gets those butterflies for Nick just as she "accidentally" gets a glance at his villainous automation plans conveniently sitting on his open laptop. Nick seems to have other plans, but when he breaks the news to the employees he's come to know, Ellie isn't sure if he's the real deal after all. Then, of course, there's the question of whether or not she'll do something to make those crafting dreams come true, or if making Kringles will satisfy her Christmas-loving heart.
Just because none of this is based on a specific true story, doesn't mean the pieces weren't inspired by real life meet-cutes, right? Love happens all the time — and is especially adorable and festive with Kringle-like creations during the holidays. If you recognize D'Orsay, it's because the former comedic performer and animated voice actor has starred in the hit USA Network original series Royal Pains, as well as smaller credits in mega-hits like The Big Bang Theory, How I Met Your Mother, and Two and a Half Men. And let me not forget this isn't D'Orsay's first Hallmark situation. You can also catch her in June and January and How to Fall in Love. As for Lissing, the Aussie-born actor, singer, and songwriter had previous roles in ABC's Last Resort, and many others — including Hallmark's period drama (yes, it exists!) When Calls the Heart opposite Erin Krakow and Laurie Loughlin.
Lissing recently told Entertainment Tonight his feelings about Christmas In Love saying, "I read the script and I had to do it because it's one of those stories where the arc of the character is just so interesting. It's two worlds colliding. It's two sets of ideologies colliding and then coming together, which I think is relevant, especially this time of the year when we need hope and love and a little bit of togetherness. This was a no brainer for me."
So what if Christmas In Love isn't based on one true story? And who cares if you have no idea what Kringles are? The holidays don't have to make sense to bring you joy, so grab that onesie and settle in on the couch. Hallmark will take care of you. Promise.