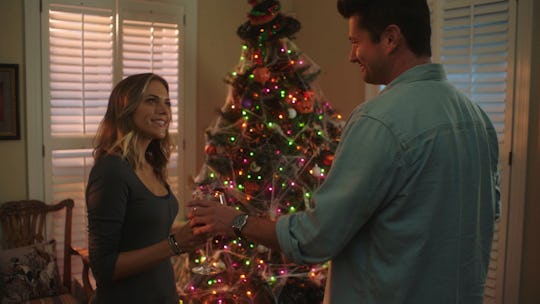 TLC
'Christmas In Mississippi' Actually Takes Inspiration From Real Life Events
Who needs Christmas carols to help you decorate your tree and deck your halls when there are Lifetime holiday movies to binge? Lifetime has a slew of new holiday flicks premiering this month and you're likely already addicted to some of them. Unlike some of the network's other film adaptations, Christmas in Mississippi is not based on a true story, but it's a good story nonetheless.
Like all the best holiday movies, it's part homecoming and part romance, when photographer Holly Logan, played by Jana Kramer, goes home to Gulfport, Mississippi for Christmas. Her small town is bringing back their legendary holiday light festival for the first time in five years, when a hurricane decimated their town. Since she's home, she volunteers to help out, but then realizes that that whole light show is being run by her high school sweetheart, Mike, played by Wes Brown, which means she has to deal with spending time with a guy who broke her heart. Awkward.
But then, as we can all guess, the holiday spirit conquers all and Holly starts to fall in love with him and her hometown again. There's also a "matchmaking mother" and Mr. Kriss, who plays Santa in the town's celebration, according to Lifetime's official description.
Although it'd be nice if this story was true, alas, it's totally fictional.
But that doesn't mean it's not based on highly probable events, right? Hey, let a hopeless romantic dream. There are a few reasons the film might feel very realistic. Gulfport is, as its name suggests, right on the Gulf of Mexico and often gets slammed by hurricanes. Most notably, Hurricane Isaac hit the town in 2012, which is likely the storm that took out the town's light show. According to The New York Times, it was the most devastating weather since Hurricane Katrina:
On its crawl up from the coast, Isaac dumped more than a foot of rain in some places and shoved before it a violent storm surge that would soon bring back the terrible old images of 2005: people marooned on rooftops, rescue workers breaking into attics with axes and the rescued clutching what little they had left.
So the plot of the movie is obviously based on actual events, even if Holly and Mike are fictional. The movie also filmed on location, giving it even more credibility. According to the Sun Herald, the film was shot during the summer, so Gulfport residents had Christmas come a little early. There was a mini holiday festival set up in the town's Jonas Park, though they had to reschedule shooting in late August due to Hurricane Harvey.
Even if the story isn't based on real events, the light display is totally authentic to Gulfport. Residents were a little confused when they saw the Christmas festival set up in June, since the metal Christmas tree frames and lights are a centerpiece of the city's Harbor Lights Winter Festival, which runs throughout the holiday season in Gulfport.
According to the Sun Herald, this is the third Lifetime movie to be shot in the small Mississippi town. Lifetime's Nanny Seduction and A Deadly Affair were both shot in the area. The producer of Christmas in Mississippi, Daniel Lewis, is dedicated to beefing up the region's economy through movies.
He also produced Christmas on the Bayou and Mississippi River Sharks in the area. According to his IMDB page, Lewis "has been involved in over 40 projects while also assisting in the infrastructure growth of the Louisiana's budding film industry," which is pretty cool, especially since when movies shoot on location, local unions and people often get to work on the sets, making it a win-win.
So although Christmas in Mississippi might not be based on a true story, the crew really did everything it could to keep it as real as possible.
Check out Romper's new video series, Romper's Doula Diaries:
Watch full episodes of Romper's Doula Diaries on Facebook Watch.