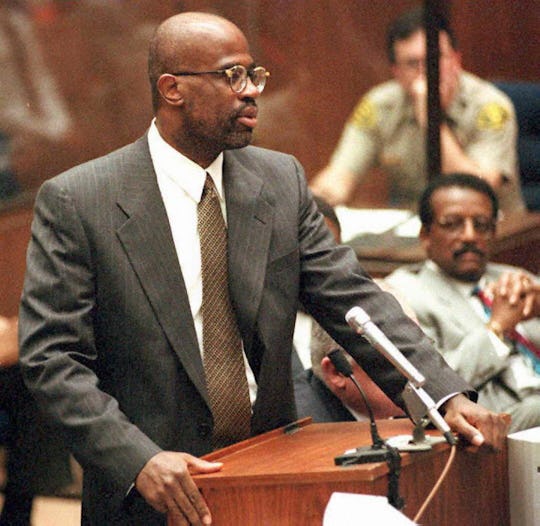 AFP/Getty Images/AFP/Getty Images
Is Christopher Darden Still A Lawyer? He's Moved On From the Simpson Case
O.J. Simpson's 1995 trial is likely one of those moments in history that the public will never forget — and with the popularity of FX's new show, American Crime Story: the People v. O.J. Simpson, the world has been reliving the entire trial in depth recently. The show has also put a renewed focus on the lawyers that worked on both sides of the case. O.J. Simpson's trial wasn't the first televised American court case, but it was definitely the most recognized, and one member of the prosecution famously broke down at a press conference following Simpson's acquittal. Where is he now, and is Christopher Darden still a lawyer?
The 59-year-old is still a criminal law defense attorney, and he told The Oprah Winfrey Show that he writes occasionally. He wrote In Contempt, which shared his perspective of the O.J. Simpson trial, and he's co-authored four crime books with author Dick Lochte. According to his LinkedIn profile, Darden has his own firm, Darden & Associates, Inc., where he works on "white collar, narcotics, marijuana, homicide and gang cases."
The O.J. Simpson trial was his last as a prosecutor, however. According to Entertainment Weekly, Darden left the Los Angeles District Attorney's office in 1995 to take up teaching, becoming a full-time professor at the Southwestern University School of Law in Los Angeles. During that time, Darden also did humanitarian work for the families of homicide victims and domestic abuse victims, according to Fox News.
In 1999, he opened up his own firm, and he has been in private practice as an attorney ever since, mostly keeping a low profile. He briefly popped back into the public eye in 2012, when he claimed that the infamous glove used in the Simpson trial was tampered with, according to Reuters.
What is his opinion on FX's American Crime Story: The People v. O.J. Simpson? He told TMZ in February that he hadn't watched the show, but he did share his opinion on it. "I think you have a production of basically non-black writers and non-black producers, and they want to take this iconic trial with these black lawyers and talk about race," he said. He also claimed producers did not reach out to him, and said, "I don't see how you talk about race without including the people who are most affected by it."
The O.J. Simpson case is something Darden has left in the past, however. "I've tried to move past it," he said on The Oprah Winfrey Show. He now lives with his wife and three children, and continues his practice as a private attorney.