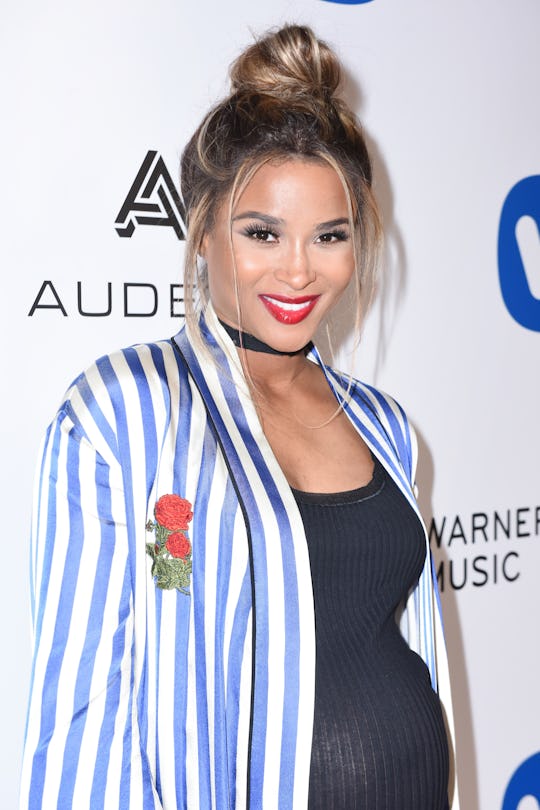 Vivien Killilea/Getty Images Entertainment/Getty Images
Ciara May Have Hinted At Her Baby's Gender
At a post-Grammys party, a very pregnant Ciara wore a stylish yet cozy outfit that was easily the envy of every other attendee. Something about her look, though, was especially cheeky, as she later clarified in a tweet. The blue ensemble has guests wondering: Is Ciara having a boy? Romper has reached out to Ciara's representation for comment but has not heard back at this time.
Epitomizing red carpet comfort, Ciara donned a blue striped robe and top knot while attending the Warner Music Group Grammys Party. She was flanked by husband Russell Wilson, who himself opted to wear all black. After the photos of a glowing, gorgeous Ciara were taken, she circulated rumors even further, tweeting out a photo from the event a few days later with the note: "Blue is one of my favorite colors." Pretty random, right? Understandably, it felt like a huge hint.
This isn't Ciara's first child, though it will be her first with Wilson. She already has a son, 2-year-old Future Zahir Wilburn. Wilburn is the son of rapper Future, and was just recently the center of a contentious custody battle between Future and Ciara. Ultimately, the pair agreed to joint custody for their child, according to TMZ, though he "will be with Ciara most of the time" due to Future's full tour schedule.
All that's to say: Future Jr. might get a brother! Well, technically, it'd be another brother for him, seeing as Future already has three other kids.
Ciara's mysterious blue moment is made more tantalizing by the fact that Wilson and Ciara know the sex of their baby but just aren't sharing it with the public yet. They even have a name picked out, as Wilson revealed to Extra's Mario Lopez in early February. His reasoning for keeping the details discreet? "We haven't told really too many people at all," he shared, while taunting: "But it's getting close. We're getting there."
As for the maybe-baby boy's name? It'll be "special" and "a good one," Wilson assured. Both Ciara and Wilson contributed to the name-picking process, making their choice a total win. As Wilson explains: "I think we both have some creative sense about us, so it's gonna be cool."
Though it hasn't been confirmed yet, fans on Twitter were pretty certain that Ciara's "blue" tweet was the last needed piece of the gender-reveal puzzle. Supportive replies prove that everyone just can't wait to get to know this new baby, applauding Ciara, Wilson, and their growing fam.