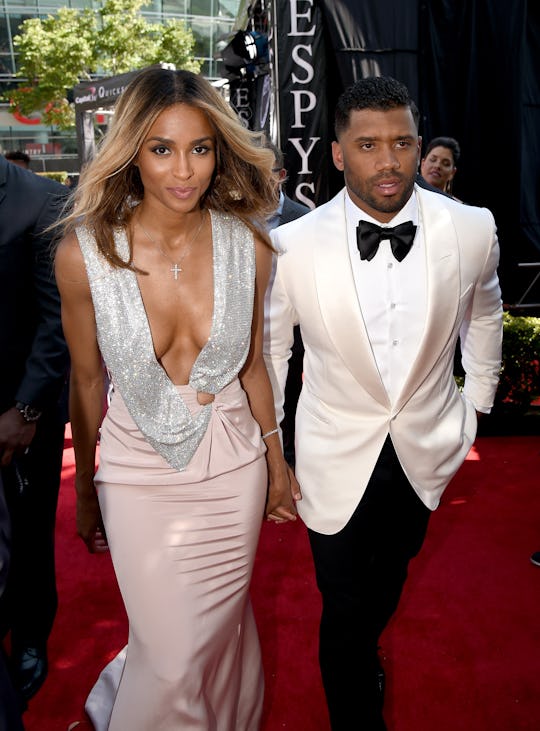 Kevin Winter/Getty Images Entertainment/Getty Images
Is Ciara & Russell Wilson's Baby A Boy Or A Girl? It's Their First Baby Together
Ciara and Russell Wilson are one of those couples. The couples who post cute pictures capturing their relationship on social media, and you just instinctively root for them. At least that's what I do when I scroll through the R&B singer's Instagram account (and when I switch gears to the Seattle Seahawks' quarter back's Instagram page for some more swooning). And let's not forget the outrageously cute smile belonging to Ciara and rapper Future's son, Future Zahir, who makes appearances on both Ciara's and Wilson's social media accounts. There's cuteness all around when it comes to Ciara and Wilson – and now the couple has recently announced more exciting news about their family. They announced Ciara is pregnant, and their fans have filled their pages with a lot of positivity and congratulatory messages. So, is Ciara and Wilson's baby a boy or a girl? Their family is growing.
In Instagram posts on Tuesday, both Ciara and Wilson posted a black and white picture of them holding Ciara's (pregnant) belly, with captions announcing the exciting pregnancy news. It's certainly been a celebratory week for the couple – Ciara was also celebrating her 31st birthday.
She wrote:
On this special Birthday I received an abundance of love from friends and family.. and I'm excited to Finally share one of the Greatest Gifts of All that God could give... 👶🏽🍼💃🏽☺️❤️
It appears Ciara and Wilson haven't revealed other details about the singer's pregnancy yet – so it's not apparent how far along she is, or whether they know what the baby's gender at birth will be. But in the meantime, I'm sure fans will continue to flood their social media accounts with love.
The couple got married a few months ago in July, and have shared loving pictures of their relationship since.
On Wilson's Instagram page, he captioned the same pregnancy-announcement-photo with Ciara, writing: "The Greatest Blessing of All. Forever Grateful."
Wilson has expressed excitement about growing his family in the past. And as People cited, he's shared his joys of being a stepdad to baby Future. In a past interview with Maria Shriver, Wilson explained how raising baby Future brings him joy:
When I see this kid, he's only 2 years old … He's so sweet and so loving, always has a smile on his face. Always joking around, always running around the house...
The important part about loving somebody — especially as a man, being a stepfather in a situation where it's a little bit different, you know, for sure — but ultimately, it's about loving the child because the child has the opportunity to do something amazing in his life...
Congratulations to Ciara, Wilson, and baby Future!