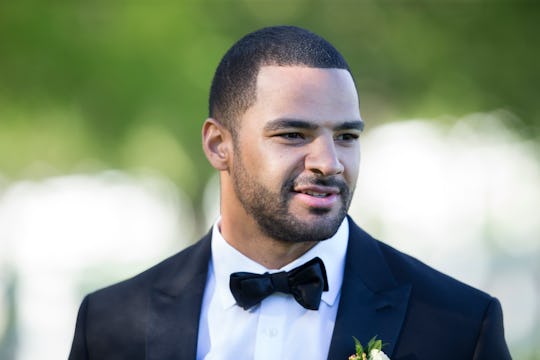 Paul Hebert/ABC
Twitter Wants This 'Bachelorette' Contestant To Be The Next 'Bachelor'
If you're a fan of the Bachelor or Bachelorette, you know that certain contestants just hook you in, and you end up rooting for them whether they make it to the end or not. On this season of the Bachelorette, there's been one contestant who fans are hoping to see more of. Despite having to leave the show due to an injury, fans are rooting for Clay to come back to Bachelor Nation to find love. So, understandably, people are wondering, is Clay going to be the next Bachelor?
Unfortunately, there's no way of knowing if Clay will ultimately become The Bachelor. Things move fast in Bachelor Nation, and producers usually pick a Bachelor or Bachelorette based on popularity and media buzz. With quite a few weeks still left on Becca Kufrin's season of The Bachelorette, it's hard to know how things will go down -- and who will make the biggest impact on fans in the end.
In a 2015 interview with E! News, franchise producer Alycia Rossiter said that future Bachelor and Bachelorettes are chosen based on fan polling and their readiness for marriage. She told the outlet:
"We really want to find someone who honestly wants to get married and start their adult life in a partnership. There's so many factors. The audience has to love them, but if you love them and I think they're just in it for a roller coaster ride that's no good for us."
Clay seemed like he was ready to fall in love and get married, and he may have made it farther in the competition if it wasn't for his injury. His last group date was a football game, and being a professional football player, Clay put his all into the game. While scoring a touchdown, he ended up hurting his wrist, and after seeing an orthopedic surgeon, he learned that he needed surgery in order to recover.
Despite some major chemistry with Becca and even getting a date rose, with a heavy heart Clay broke the news to Becca, telling her he had to to go home early because he needed to focus on his health so he could go back to playing football. He told her that his career was way of taking care of his family, and despite it being a torturous decision, he had to leave. Clay told her:
"Trust me, I want to stay and see where this goes because I could see us having something great," he told her. "But I know what I have to do, and I regret it already, trust me."
Becca was sad to hear the news, and the two shared a tearful goodbye. She really seemed to be into Clay, so it was unfortunate that the two never got to explore the possibility of love. Fans, on the other hand, fell completely in love with Clay, many of them taking to Twitter to share their hopes of seeing him as the Bachelor:
Clay is super athletic and hunky, but it was his teddy bear-like personality and gentle loving nature that has fans hooked. I could totally see him as the next Bachelor, but ultimately that decision is up to the producers. Hopefully, if Clay's popularity keeps steady, they will actually consider him. He's definitely a great catch, and I'm sure any woman would be lucky have him. He has consistently shown that he's a stand up guy, and is making tough decisions for the betterment of the people he loves.
So, while there isn't any guarantee that Clay will become next season's Bachelor, there is always a good chance that you'll see him on Bachelor In Paradise, so keep tweeting and keep hope alive! In the meantime, hopefully you'll get to see Clay play for a professional football team in the upcoming football season.