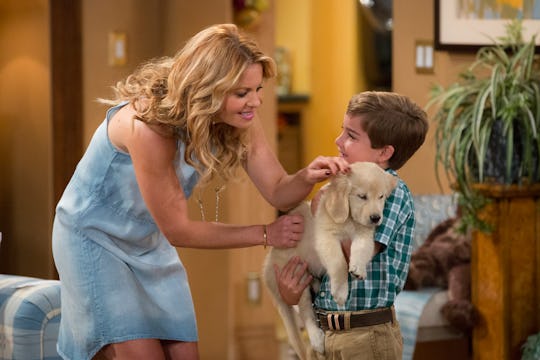 Michael Yarish/Netflix
Is Comet Jr. Jr. Really Related To Comet? We Did The Math
It's been 20 years since we gathered around our TVs for a Friday night viewing of Full House. And now that Fuller House has finally arrived on Netflix, the gang's all here once again: Danny Tanner and his daughters D.J. and Stephanie (but no Michelle); Uncle Jesse; Uncle Joey; and even the annoying neighbor Kimmy Gibbler. But as the first Fuller House teaser trailer made us realize, there was one very special cast member who definitely wouldn't make the reunion: the beloved Tanner family dog, Comet. If it's not the Comet we remember (more on that below), then is Comet Jr. Jr. really related to Comet?
Let's get the bad news out of the way first: Comet died peacefully in his sleep in 1998, three years after Full House went off the air. Comet, or Buddy as he was known by his owner and trainers, lived a good long life for a dog. He passed at the age of nine years old. After his run on Full House, Buddy starred in two films: Fluke and Air Bud. That's right: Comet went from TV family pet to basketball-playing canine. It's amazing a once-stray dog found in the Sierra Nevada mountains turned into a beloved member of our extended TV family during the nineties. Now, on Fuller House, we get to meet Comet's progeny: Comet Jr. Jr.
Here's Buddy in a 1993 archival photo from Full House:
And here's Comet Jr. Jr. as seen in the teaser trailer for Fuller House, 20 years later:
In the premiere of Fuller House, Steve Hale (played by Scott Weinger) shows up with Comet Jr. Jr. in his arms, wrapped in a blanket. She's been in labor for a while now, but the puppies just aren't coming. Conveniently, Candace Cameron Bure's D.J. Tanner-Fuller has grown up into a vet. D.J. tends to the laboring Comet Jr. Jr. in a kiddie pool in their backyard — much like how Comet was born the Full House episode, "And They Call It Puppy Love". Once the puppies are born, D.J.'s 7-year old son Max begs for one of Comet Jr. Jr.'s puppies — which, spoiler — of course he gets by the end of the episode: His very own Comet Jr. Jr. Jr.
But could Comet Jr. Jr. really be related to the Comet of the original series? Let's do the math. Buddy's first appeared on Full House on Nov. 10, 1989, when he was born on Uncle Jesse's bed. In the 1994 episode "Comet's Excellent Adventure," Comet had quite the romp across San Francisco with a fancy collie dog.
By this episode, Comet would have been almost five years old — a perfectly fine age to become a father, no? And even if he didn't have a litter of puppies with his lady friend in 1994, Comet was nearly six years old by the time Full House ended: Plenty of time to mack with the lady dogs before he died at the age of nine. That means any of Comet's progeny — Comet Jr. — could have been born between 1994 and 1998. For the purposes of this thought experiment, let's call it an even 1995. Golden retrievers average a 10 to 12 year lifespan. So, assuming Comet Jr. went to the great Dog House in the Sky when he was 11 years old (splitting the difference here) in 2006 — that means a Comet Jr. Jr. could have been born sometime between 2000 and 2006. That means, at his youngest — Comet Jr. Jr. would be 10 years old.
So, does the math work?
Kind of, I guess? I mean, a 10-year old dog having puppies isn't necessarily unheard of, but feels like a bit of a plot stretch here. Maybe Fuller House should have gone with Comet Jr. Jr. Jr. for a more accurate sense of time. Or maybe we should just ditch the math and embrace the puppy love that is Comet Jr. Jr. wrapped in nostalgic sitcom goodness — and just enjoy the heck out of Fuller House instead of worrying about anachronistic puppy progeny.