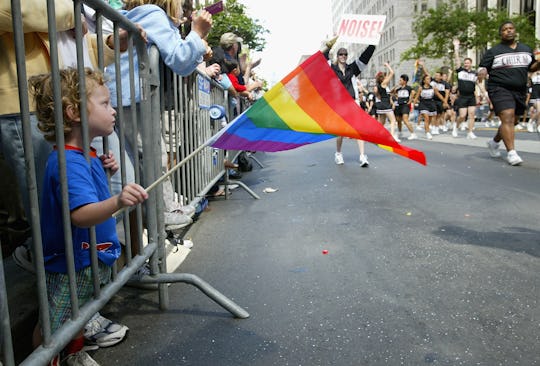 Justin Sullivan/Getty Images News/Getty Images
On The Legality Of Conversion Therapy
The fight for LGBTQ equality is far from over, especially when you consider that gay conversion therapy is still legal in most states. Last year, Democrats attempted to pass a bill in the House that would outlaw the practice of institutions who attempted to "change" LGBTQ identifying children and individuals, but it didn't get very far. On Tuesday, Democrats introduced the Therapeutic Fraud Prevention Act, which would ban conversion therapy by labeling it as fraudulent. So far, it has 21 co-sponsors in the Senate, which is two more than last year, and 67 co-sponsors in the House, which is far fewer than the 96 from last year.
One of the original sponsors, New Jersey Sen. Cory Booker said in a statement:
We need to ban "conversion therapy" plain and simple. So-called 'conversion therapy' isn't therapy at all — it's a tortuous, fraudulent practice that has been repeatedly condemned by medical professionals and has no place in our country. By empowering the [Federal Trade Commission] to protect consumers from this kind of fraud, this bill will take an important step in ending this harmful practice for good.
It could be easier to pass this time around, since some states (New Mexico, California, Vermont, Illinois, New Jersey, Oregon, and the District of Columbia) have passed laws banning the ineffective and often dangerous practice already.
There are an additional 20 states that have introduced bills banning the practice and a New Jersey Supreme Court concluded that "misrepresenting homosexuality as a disorder" breaks consumer protection laws. While the consumer laws don't necessarily speak to LGBTQ equality, it is a very creative way to end the practice. Especially since the American Medical Association, the American Psychiatric Association, the American Pediatric Association, among other medical organizations have deemed it ineffective.
While some states don't ban reparative therapy outright, many towns or cities have their own laws concerning conversion therapy. But it was just in 2015 when Cincinnati, Ohio became the very first jurisdiction to have any law on the books concerning the "therapy." That means that the 76 percent of the LGBTQ community, including minors, living in states with no laws are still at risk of being introduced to the "therapy" at some point in their lives.
Last fall, New York Democrat Patrick Burke introduced a bill named after Vice President Mike Pence for Erie County that would have banned conversion therapy. He called it the Prevention of Emotional Neglect and Childhood Endangerment (PENCE) act, since the vice president has made remarks in the past suggesting that he believes in the practice. (Pence wrote on his website while running for Congress in 2000 that he thought funding for HIV services should be redirected to "institutions which provide assistance to those seeking to change their sexual behavior," exhibiting a lack of knowledge about both sexual orientation not being a choice and the many ways HIV is transmitted.)
In fact, according to a study done by San Francisco State University, LGBTQ children who were "rejected" by their families and/or had reparative therapy were three times as likely to be at high risk for HIV and STIs, and eight times as likely to commit suicide. Those are the kinds of numbers that should get bipartisan attention.
If this latest federal bill doesn't get through Congress, hopefully more municipalities and states, with urging from constituents, will outlaw the fraudulent practice anyway.