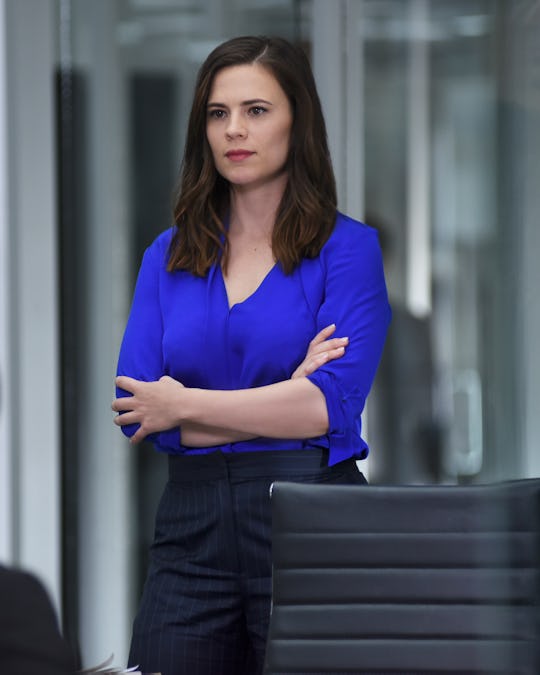 John Medland/ABC
Is 'Conviction' Based On A True Story? ABC's New Drama Has Some Basis In Reality
This fall, ABC premiered two new dramas, both of which are highly reminiscent of Shonda Rhimes' classic Scandal. Though nothing can replace Scandal in our hearts, both Notorious and Conviction are sure going to try. Notorious is well-known to be inspired by the real-life working relationship between Larry King Live producer Wendy Walker and attorney-to-the-stars Mark Geragos. But what about the new Monday night hit, Conviction? Is Conviction based on a true story, as well? It's not as clear-cut a back story as with Notorious, but there are some realistic elements.
Conviction is about a former first daughter named Hayes Morrison with a scandalous past. After she is busted for cocaine possession, she is wrangled into taking a job as the head of the new Conviction Integrity Unit, an organization dedicated to reviewing and overturning wrongful convictions. This should also help in Hayes' mother's senate run. If all of this sounds extraordinarily outlandish, that's because it is. But it doesn't necessarily mean that there aren't real-life inspirations for some of the plot lines. Conviction Integrity Units really do exist, and government official daughters have been known to get into trouble from time to time. However, the idea that one such daughter would be given a high-powered position as "punishment" for bad behavior has not yet actually occurred (that we know of, at least.)
While a former first daughter keeping up a squeaky clean reputation in order to aid her mother's political ambitions is more than reminiscent of Chelsea Clinton, the behavior is more in line with the daughters of former president George W. Bush's twin daughters, Jenna and Barbara Bush. But the Bush girls' brushes with the law due to underage drinking are (literal) child's play compared to the fictional Hayes' nude pictures, hard drug use, and losing her job as a law professor due to sleeping with her students. Plural.
More realistic is the institution Hayes finds herself the begrudging head of. The Conviction Integrity Unit is not, as many have thought, a television equivalent of The Innocence Project. A Conviction Integrity Unit (CIU) is a division of the prosecutorial office and aims to correct wrongful convictions. As of 2015, there existed 24 such offices in the U.S., and they have helped to exonerate 151 people between the years of 2003 and 2015. That is some really serious good work. As the number of CIUs nationwide has jumped rapidly in the past few years, quadruple what it was in 2011.
Of course, Conviction is a dramatic procedural, so Hayes' fictional team is allotted just five days per case. In the real world, this is an insanely short amount of time to get anything done. But this is TV after all.