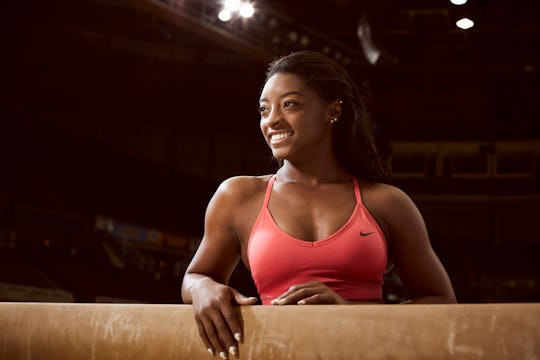 Scott Council/Lifetime
Why 'The Simone Biles Story' Is The One Lifetime Movie You Need To See
When tuning in to Lifetime on Saturday Feb. 3, you might find something very familiar waiting for you. If you're wondering if Courage to Soar is based on a true story, then learning the name of its lead character is probably all you need to know for sure. The movie is based on the life of Olympic athlete Simone Biles, and takes its inspiration from her memoir of the same name.
The Simon Biles Story: Courage to Soar stars Jeanté Godlock as Biles and follows the gymnast through the early days of her journey to the Olympics. According to the summary from Lifetime, the movie will show fans what inspired Biles to head down this path in the first place, then detail many of the hardships and successes that defined her story along the way. She'll have to skip out on typical teen landmarks like going to games or dancing at prom, but with the help of her family she'll be able to realize her dreams.
As the summary says, "Simone's journey from foster care to the Olympic podium — with all of its triumphs and heartbreaks — can serve as an inspiration for every little girl with a dream." And since it's based on Biles' own book and she was an executive producer, one can rest assured that it will likely be factual.
Biles' book, written with Michelle Burford and titled Courage to Soar: A Body in Motion, A Life in Balance, tells her story in her own words. A four-time Olympic gold medalist and three-time World all-around gymnastics champion, Biles is currently the most decorated American gymnast. She has 14 gold medals to her name, and 19 medals overall.
Gymnastics has been a part of her life since she was a small child, something that Courage to Soar will depict. A field trip to Bannon's Gymnastix when she was little led to her natural talent being discovered and set her on the path towards her later successes. It was a lot of hard work, but she definitely triumphed.
In Courage to Soar, she discussed how sometimes she had to push past the desire to give up when she was struggling with a routine, telling NPR, "[Her coaches] said, well, it's the beauty of the sport. You have your ups and downs, and it probably won't be the last time you're going to fall, so you have to get up and try it again."
In an appearance on The View, Biles talked briefly about being raised by her grandparents after her mother was unable to care for her and her siblings, which is something else that will be tackled in Lifetime's adaptation of Courage to Soar. Biles wrote about her early childhood in her book as well. She didn't have many memories of her life with her biological mother, and said of her grandparents, "They became the only real parents I've ever known — the ones who have raised me and guided me, and loved me every day of my life."
Prior to airing, it's unclear whether the Lifetime film will address the abuse Biles said she endured from former team doctor Larry Nassar (who was recently sentenced to 175 years in prison), but it seems as though it will not. In an interview with CNN, Biles explained that it was still difficult for her to speak publicly about him and because of that, one can assume that it has been left out of the Lifetime movie.
Biles is still so young but her life hasn't been easy. Seeing her work through all of the obstacles thrown her way and emerge victorious is nothing short of inspiring. Courage to Soar promises to honor her story, especially because Biles was involved in bringing the movie to life.
Check out Romper's new video series, Romper's Doula Diaries:
Watch full episodes of Romper's Doula Diaries on Facebook Watch.