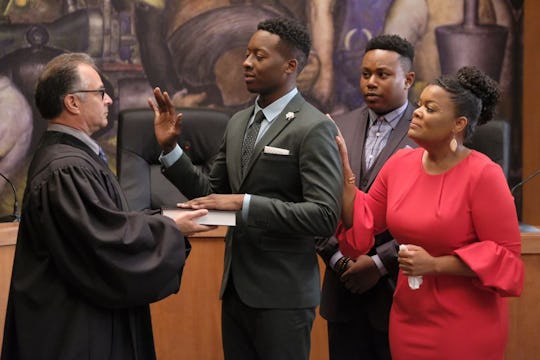 Tony Rivetti/ABC
Courtney Rose From 'The Mayor' Is The Celebrity Politician We All Need Right Now
There's a new comedy coming to ABC. The Mayor follows Courtney Rose (Brandon Michael Hall), a struggling hip-hop artist who runs for mayor in a California town to promote his mixtape and actually ends up winning the election. Though it may seem far fetched, it's clear now that celebs can definitely become political figures. So is Courtney Rose from The Mayor a real person?
Although there may be people who have similar stories to Courtney, he's not based on one specific person. In fact, on the show, prior to becoming mayor, Courtney wasn't even really a celebrity. Living with his mom, Dina (Yvette Nicole Brown), Courtney has never had a full-time job and spent his days making music in his bedroom closet. Running for mayor was supposed to be the publicity stunt that put him (and his mixtape) on the map, and it actually did. Just not in the way he expected.
Up against a "real" politician, Ed Gunt (David Spade), Courtney somehow convinces the people of his neighborhood that he's the most qualified for the job, even if he really isn't. Sound familiar? Courtney doesn't win on his own, however. He has the help of his friends, Jermaine Leforge (Bernard David Jones) and T.K. Clifton (Marcel Spears). Originally on the opposition side is Valentina Barella (Lea Michele), who was Ed's campaign manager. She quickly jumps ship to become Courtney's Chief of Staff, however, when it becomes clear he actually wants to make a difference.
Also, assisting Courtney in this new adventure will be Dina, who is the first to encourage him to accept the surprising position of mayor, believing that it's a great opportunity for her son (and probably a good way to get him out of her house). The new comedy airs on ABC on Tuesday, Oct. 3, joining the network's comedy line-up, which includes Emmy-nominated series Blackish, Fresh Off the Boat, and The Middle. Following The Mayor, another new series will air, titled Kevin (Probably) Saves the World.
The Mayor was created by Jeremy Bronson, who also executive produced last year's hit family sitcom, Speechless, which also airs on ABC. Bronson has now comfortably situated himself in the entertainment world, but prior to that he had a political news background. He worked for The Chris Matthews Show and Matthews' Hardball on MSNBC before he jumped to the entertainment industry.
When coming up with The Mayor, Bronson was inspired by Chance the Rapper and Hamilton's Daveed Diggs. Diggs is now one of the executive producers on the show and also writes some of the show's original music. When discussing the music with Variety, Diggs explained that he wanted to make sure it had an authentic San Francisco Bay area sound, since that's where the show takes place. Diggs himself is from Oakland, CA, so while it's not exactly the same kind of sound, he's definitely familiar. If you listen to the music on the show, you'll probably be able to catch some of Diggs' influences. Additionally, you may even catch a cameo of Diggs in the premiere episode.
Although The Mayor doesn't premiere until Tuesday, a preview of the pilot episode was briefly available for streaming on Hulu last month, leading there to be early reviews from both critics and fans. Thankfully, for the most part, all the reviews seem to be positive. Most love that while the show is political, unlike other political shows out right now, it's not filled with drama or cynicism; The Mayor is just funny and somehow also hopeful. As Entertainment Weekly puts it, it's "like a liberal fantasy retelling of the Donald Trump story."
So definitely make sure to give The Mayor a watch; it may just become your new favorite show.
Watch Romper's new video series, Romper's Doula Diaries:
Check out the entire Romper's Doula Diaries series and other videos on Facebook and the Bustle app across Apple TV, Roku, and Amazon Fire TV.