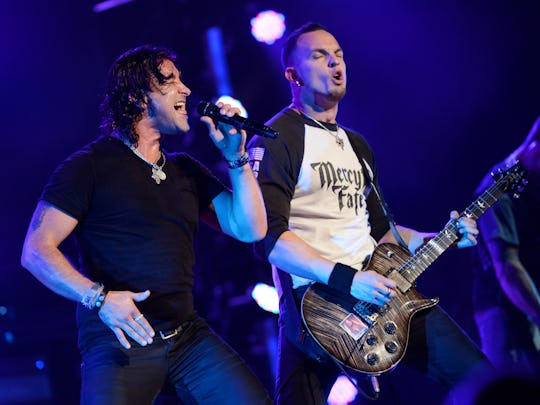 Kevin Winter/Getty Images Entertainment/Getty Images
Is Creed Watching 'The Passion'? The Band's Music Is Featured In The Musical
Creed's "With Arms Wide Open" may be from 1999, but it's far from forgotten — just Sunday night, it was covered by Jencarlos Canela on the live televised musical The Passion. (That's right, the 90s will never die!) Although Creed never referred to themselves as a Christian rock band as a whole, frontman Scott Stapp is a born-again Christian, and many have categorized their music as religious. With that said, is Creed watching The Passion?
Creed split up back in 2004, according to MTV, and the bandmates have gone their separate ways since then. However, I did some reconnaissance and snooped around the former bandmates' social media channels for mentions of The Passion, just out of curiosity. Unfortunately, none of the Creedsters have been tweeting about The Passion, but that doesn't mean others haven't noticed "With Arms Wide Open" on the live musical. (Then again, how could we not notice? Anyone that lived through the '90s and early 2000s is intimately familiar with Creed's hits.)
In case you missed the Passion scene, Jencarlos Canela — who plays Jesus in the live musical — sang the Creed classic to his disciplines in a park while offering them bread and wine, a moment which millennials were quick to weigh in on on social media.
I'm still holding out hope that Creed is secretly watching The Passion — hopefully all together, singing along — somewhere. My '90s self would love it.